Military threats against Iran have always backfired: IRGC chief
February 3, 2019 - 19:45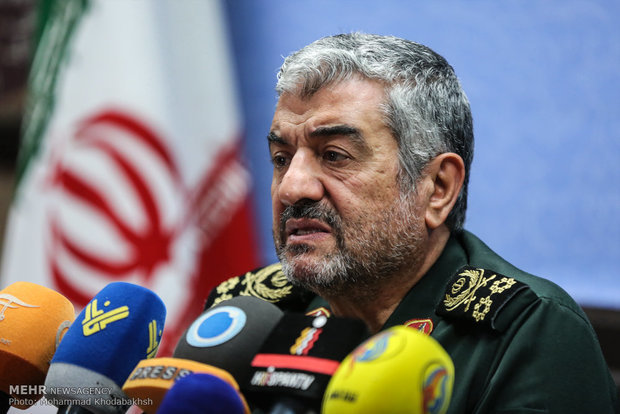 TEHRAN - Commander of the Islamic Revolution Guard Corps (IRGC) Mohammad Ali Jafari said on Saturday that posing military threats against Iran has always backfired.
"Experience has proved that military threat against the Islamic Republic of Iran backfires," he said during a conference.
The top commander said that in the economic and cultural wars which have been waged against Iran by the Trump administration, officials should focus on solving the people's problems.
He also attached great importance to the people's role in resolving the problems and leaving behind the current situation.
"The youths have been able to solve problems in all areas through creativity," the general remarked.
Despite repeated confirmation by the International Atomic Energy Agency that Iran is abiding by the terms of the 2015 nuclear agreement, U.S. President Donald Trump unilaterally withdrew his country from the international deal and ordered sanctions against Iran. Trump labeled new sanctions on Iran as the "toughest ever".
The IRGC chief also said, "Enemy has entered ideological area and has targeted our people-based system. The motivated youths should take action in responding such threats."
In remarks in December 2018, Jafari said Iran has reached a degree of power that the U.S. does not dare to consider military option against it.
"It's been for many years that we have distanced from security threats and no superpower imagines aggression against us," he noted.
The top military official though the U.S. has launched an economic war against Iran, the situation in the country is far much better than the war-stricken regional countries.
NA/PA