Fighting terrorism is our common cause, Rouhani says after Sochi talks
February 15, 2019 - 20:0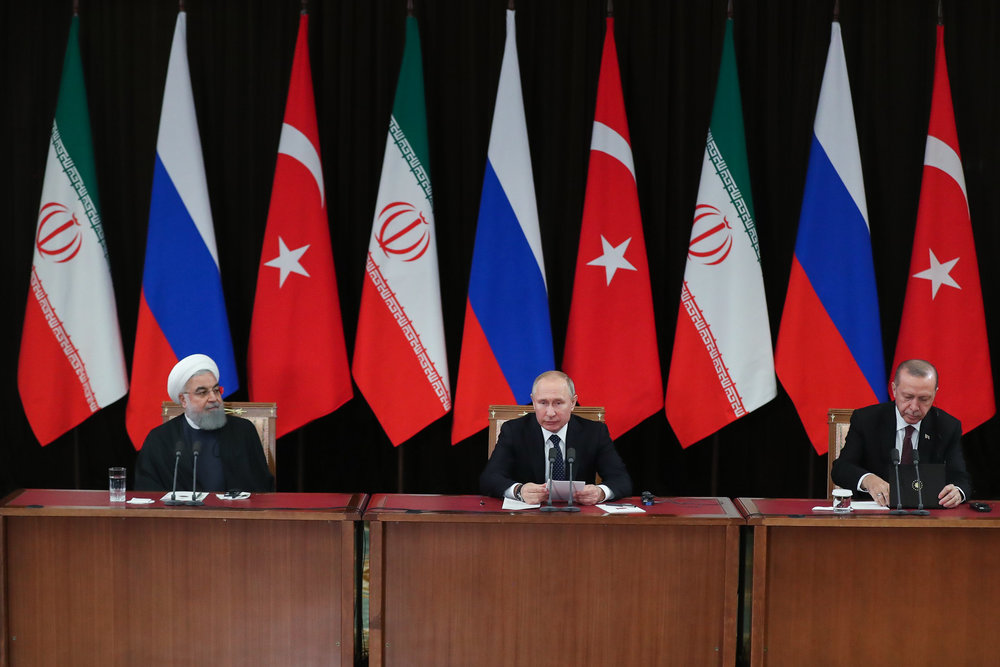 TEHRAN – Iranian President Hassan Rouhani said on Thursday that fighting terrorism is a common cause for Iran, Russia and Turkey.
"Our common cause is fighting terrorism, restoring stability and security to Syria, preparing new constitution and strengthening a democratic government in the country," he said in a joint press conference with his counterparts Vladimir Putin and Recep Tayyip Erdogan after the Sochi talks.
Rouhani said, "There are many worries about future of terrorists, because many of them are imprisoned in Syria and will spread chaos and terrorism once they are back to their countries."
He added that the U.S. act in relocating Daesh terrorists to Afghanistan is worrisome.
"Our second concern about the U.S. is that it has seemingly removed its forces from Syria, however, it is still continuing interference in Syria based on our information," he added.
He noted that it is the Syria people who should decide for their country and territorial integrity of the country should be respected.
Rouhani said that all the neighboring countries to Syria should have friendly relations with the country to help establishing long-term security in Syria.
Elsewhere, he condemned the Zionist regime of Israel's "illegal interferences" in Syria.
'U.S. is relocating Daesh terrorists'
During his speech at the Sochi conference, Rouhani said that the U.S. is transferring Daesh terrorists.
"There are credible reports based on which the U.S. is helping relocate Daeesh terrorists inside Syria and also a number of them to Afghanistan," he said.
He added, "Unfortunately, in continuation of its illegal actions, the U.S. government is still supporting terrorists in Iraq and Syria and uses them in line with its own interests."
Rouhani noted that terrorists should not feel safe anywhere in the world and their supporters should not imagine that they can use terrorism as tool to gain benefits in international equations.
He said that Iran-Turkey-Russia cooperation in helping settle the Syrian crisis has resulted in restoring peace and stability in most parts of the country and maintaining its national sovereignty and territorial integrity.
Elsewhere, he said that inter-Syrian talks without any foreign interference should be continued.
He urged the international community to help refugees return to their country and also reconstruct Syria.
Rouhani described Iran-Russia ties growing
During a bilateral meeting with Putin on the sidelines of the Sochi summit, Rouhani said that Iran-Russia ties are "friendly" and "growing".
He described cooperation as "strategic".
Rouhani called for expansion of relations in various areas of transportation and business and also banking ties.
He added that doing transactions in the two countries' national currencies is a big step in expanding relations.
He also attached great importance to Russia's role in preserving the 2015 nuclear deal after the U.S. withdrawal in May 2018.
Putin, for his part, praised Iran's compliance to its obligations under the deal.
He noted that cooperation between the two countries should be expanded.
He also praised Iran's role in helping settle crisis in Syria.
Rouhani calls for expanding banking ties with Turkey
In a separate meeting with the Turkish president, Rouhani called for expanding banking ties.
He also noted that cooperation in energy sphere should be expanded.
Erdogan said that Turkey welcomes Europe's financial mechanisms to keep the nuclear deal.
Ankara is ready to establish similar bilateral mechanisms with Iran, he added.
After months of delay on January 31, France, Germany and Britain finally announced the creation of INSTEX, a special purpose vehicle aimed at facilitating legitimate trade between European economic operators and Iran.
The European Union foreign policy chief Federica Mogherini, French Foreign Minister Jean-Yves Le Drian, German Foreign Minister Heiko Maas and British Foreign Secretary Jeremy Hunt has said INSTEX will support legitimate European trade with Iran.
NA