By Syed Zafar Mehdi
After Kashmir attack, war drums beating again
February 17, 2019 - 10:22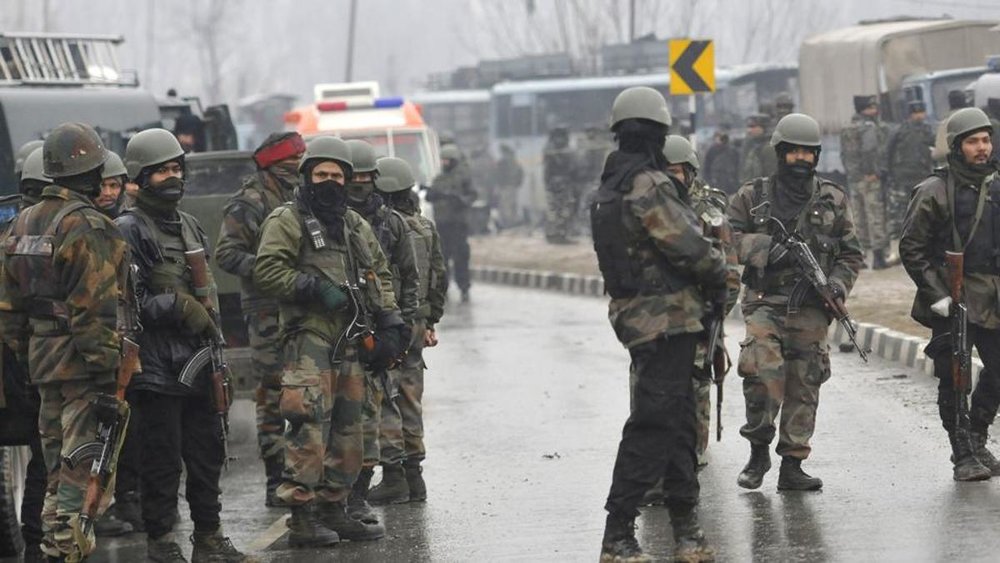 TEHRAN - The war drums are beating again, this time deafeningly. Following the ghastly attack on a military convoy in Indian controlled Kashmir on Thursday, which left more than 40 dead, India is seeking revenge.
India's Prime Minister Narendra Modi has vowed 'befitting reply' to the 'perpetrators of the heinous attack and their patrons', in an oblique reference to Pakistan.
Modi took to Twitter to announce that "no force will succeed in disturbing peace, progress, and stability of India," declaring strong response.
It is the deadliest attack to target Indian security forces in the disputed region since the insurgency broke out in late 1980s. There have been at least 10 suicide attacks in the region since 1989.
The attack took place in south Kashmir's Pulwama district when a 70-vehicle convoy of India's central reserve police force (CRPF) was heading to Kashmir's summer capital – Srinagar.
The unofficial reports have put the death toll at 46, the highest casualty figure in a single terrorist attack in three decades of insurgency.
The responsibility for the deadly attack was claimed by Jaish e Mohammad (JeM). The person who carried out the attack was identified as 19-year-old Aadil Ahmad, a native of south Kashmir.
India says the militant group has long had sanctuary in Pakistan and accuses its neighbor of failing to act against the group or arrest its leader Masood Azhar.
India has called for global sanctions against JeM and demanded that Masood Azhar be listed as a terrorist by the UN Security Council. According to officials in India, the move has been repeatedly blocked by China, an all-weather ally of Islamabad.
But, following Thursday's attack, India is expected to push harder, which is evident from the strong and politically-charged statements issued by PM Modi and his senior cabinet ministers.
"We have given complete freedom to the security forces of the country. We have full faith in their bravery and valour," Modi said on Thursday.
Without naming Pakistan, he said, "our neighboring country has already been sidelined by the international community, still if it thinks it can create problems for India, it is their mistake."
Arun Jaitley, who resumed charge as India's finance minister on Friday, said India will ensure the "complete isolation" of Pakistan and would take "all possible diplomatic steps" to cut Pakistan off from the international community.
Briefing media after the cabinet meeting on Friday, Jaitley said the perpetrators of the attack would pay a "heavy price" for it.
In the aftermath of the attack, India withdrew the 'most favored nation' status given to Pakistan in trade services in 1996, which means India can now enhance customs duties on goods coming from Pakistan to any possible extent.
Before Thursday's carnage, the deadliest attack on Indian security forces in Kashmir took place in 2002, when 31 people were killed at an army base in Jammu region, most of them relatives of soldiers.
In 2016, at least 19 Indian security personnel were killed when militants attacked an army base in the border region of Uri in Kashmir.
The latest attack comes amidst the alarming spike in violence in the conflict-torn region, especially since the killing of popular 22-year-old militant commander Burhan Wani in 2016.
According to official statistics, more than 500 people were killed in 2018 – which includes civilians, security forces and militants – the highest toll in a decade.
Pakistan condemned the attack and rejected allegations that it was in any way responsible for it.
In a statement, Pakistan's foreign ministry said the country has "always condemned heightened acts of violence" in Kashmir and that it will "strongly reject any insinuation by elements in the Indian government and media circles that seek to link the attack to the State of Pakistan without investigations."
China also condemned the attack, saying it was "deeply shocked" by it. "We firmly oppose and strongly condemn all forms of terrorism. We hope relevant regional countries will cooperate to cope with the threat of terrorism and jointly uphold regional peace and stability," China's foreign ministry said in a statement.
On listing of Masood Azhar as a 'global terrorist' by the UN Security Council, China's foreign ministry spokesman said the 1267 committee of UN Security Council has a "clear stipulation on the listing and procedure of the terrorist organizations", adding that "China will continue to handle the relevant sanctions issue in a constructive and responsible manner".
Iran also condemned the attack and termed any kind of violence as "unacceptable". "As a country that has been a victim of terrorism and has taken major and effective steps to root out terrorist groups in the West Asia region and has paid heavy costs and is resolved to keep up this path with strong determination, we believe using such bloody and inhumane methods by any group and with any motive and under any name is unacceptable," said foreign ministry spokesman Bahram Qassemi.
United Nations also took serious cognizance of the attack and said the perpetrators should be brought to justice. "We wish a speedy recovery to those injured and call for those behind the attack to be brought to justice," said the statement.
Quite significantly, Kashmir's top separatist leaders Syed Ali Geelani, Mirwaiz Umar Farooq, and Yasin Malik also expressed sorrow over Thursday's attack and said the "people and leadership of Kashmir regret every killing that happens on its soil".
"As we witness killing of our loved ones and shoulder their coffins each day, we can feel and understand the pain and sense of loss that the family and friends of those who are killed go through," read the joint statement.
They asserted that the delay in the resolution of Kashmir dispute, denial to engage with the sentiments and aspirations of Kashmiris was 'wreaking havoc in Kashmir'.
Meanwhile, the unprecedented attack has drawn anger and outrage across India with some people calling for 'military and diplomatic retaliation'. While the diplomatic retaliation has already ensued, according to security observers, a military retaliation cannot be ruled out either.
In 2016, following an attack on India's military base in the border region of Kashmir, PM Modi had ordered surgical strikes deep inside Pakistan controlled Kashmir.
But the popular opinion in both India and Pakistan seems against any military adventure. Social media has been flooded with posts asking India to avoid 'chest-thumping' and 'war rhetoric'.
"Once again the usual chest thumping and war rhetoric by Indians on the Pulwama attack without understanding the structural, institutional and social causes of the Kashmir independence movement," tweeted Anubhav Singh from India.
"All the rhetoric of war in the Indian media would do no good, instead it is time for introspection for the Modi government and it must move towards finding a solution of Kashmir by engaging with real stakeholders namely Pakistan and Hurriyat," tweeted Hassan Raza from Pakistan.
With general elections approaching in India, Modi is expected to play his cards tactfully. Will war with Pakistan at this juncture help him retain the chair?