No country can harm Iran-Armenia friendly ties, Pashinyan says
PM Pashinyan: 'Long Live Iran-Armenia Friendship'
March 1, 2019 - 18:31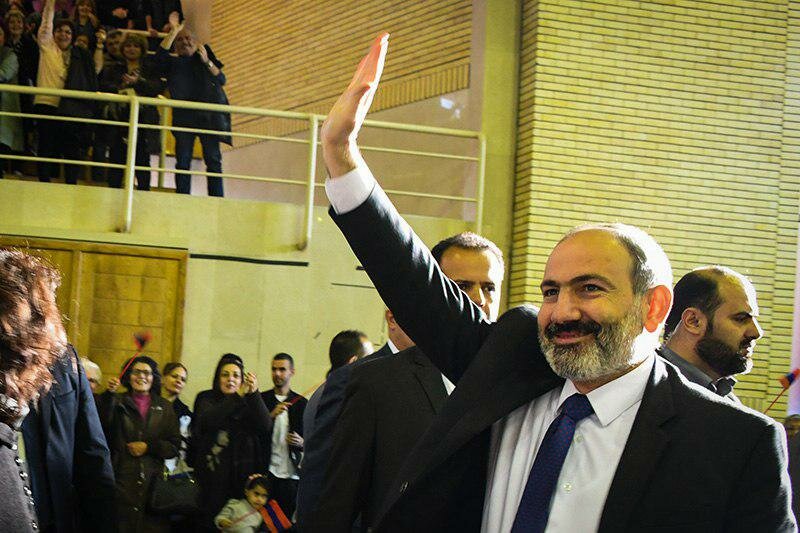 TEHRAN - Armenian Prime Minister Nikol Pashinyan said on Thursday that no country can harm friendly relations between the Iranian and the Armenian people.
"I am honored that there is a very good understanding between us and the Islamic Republic of Iran. The two countries are good friends in various areas," he said, addressing people at Ararat Stadium in Isfahan.
He added, "It is an honor for me that the Armenians have close relations with the Iranians and I thank the Muslim Iranians for hosting the Armenians."
Isfahan Province hosts about 7,000 Christian Armenians that most of them live in the city of Isfahan.
The prime minister also described as "unique" St. Mary Church and Vank Cathedral which were constructed with the arrival of Armenians in Isfahan.
Also in his speech, the prime minister uttered the sentence "Long Live Iran-Armenia Friendship" several times which was faced with ovation by those present.
Prime Minister Pashinyan also said he is "very happy that Armenians practice their ceremonies freely."
In his Thursday's visit to Isfahan, Pashinyan met with the provincial governor and visited the touristic sites of Isfahan including Vank Cathedral.
Late on Wednesday, Pashinyan also addressed a large gathering of the Armenian community in Ararat Stadium in Tehran.
Pashinyan arrived in Tehran on Wednesday and met with Leader of the Islamic Revolution Ayatollah Ali Khamenei and President Hassan Rouhani.
Two memorandums of understanding (MOUs) were also signed between the two countries at the presence of President Rouhani and Prime Minister Pashinyan.
Ayatollah Khamenei called Iran and Armenia good neighbors who have been enjoying good relationship during the history.
Ayatollah Khamenei also pointed to the good relationship between Iranians and their Armenian countrymen, saying the Armenian community in Iran made sacrifices during Iraq's war against Iran in the 1980s.
The Leader said promoting friendship and close cooperation is a duty which will meet the interests of Iran and Armenia.
NA/PA