By Syed Zafar Mehdi
India's war-crazy TV media stoops to new low
March 6, 2019 - 22:0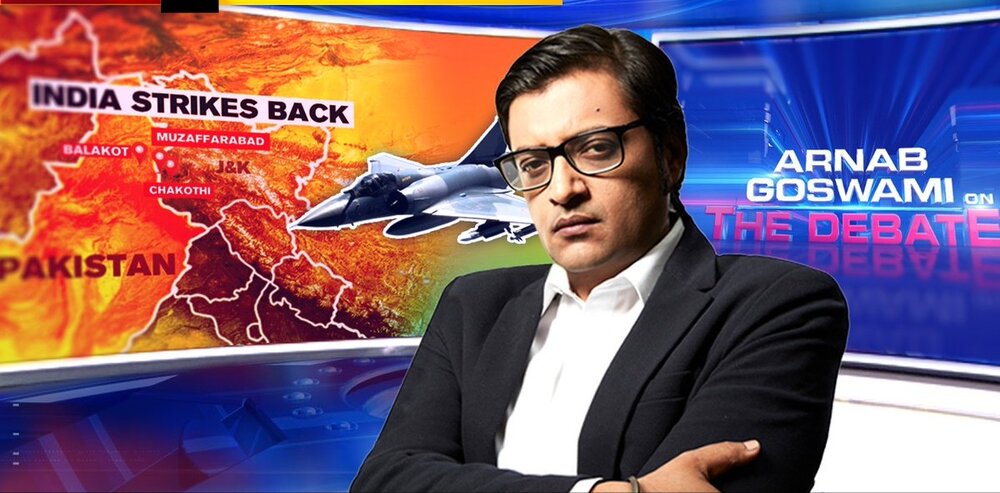 TEHRAN - Truth is the first casualty of war, said Greek playwright Aeschylus. The phrase has been interminably used to explain and contextualize the gross misrepresentation of facts in the event of war.
Last week, when warring neighbors India and Pakistan engaged in an aerial showdown, the chest-thumping, arm-chair jingoists in Indian news studios gleefully cheered them on.
India conducted a 'surgical strike' first, followed by Pakistan's strong retaliation, leading to heightened tensions and briefly bringing the two regional heavyweights to the brink of full-fledged war.
The airstrike was conducted in response to the deadly terror attack in Indian-held Kashmir last month by Pakistan-based Jaish e Mohammad (JeM), in which at least 44 Indian paramilitary police were killed.
While liberals in India voiced their opposition to the idea of belligerent military retaliation against Pakistan, rightwing Hindu groups brazenly cheered for war, calling on the Narendra Modi-led nationalist government in India to seek 'revenge' for Pulwama by 'attacking' Pakistan.
Television media in India, an extended arm of the Modi-led government, took lead in preparing the ground for war, even before the 'surgical strike' was conducted.
"We want revenge, not condemnation… It is time for blood, the enemy's blood," screeched Arnab Goswami, a famously infamous Indian TV journalist, a day after the Pulwama attack.
Goswami's news channel Republic, owned by a legislator from Modi's party, has often been criticized for shamelessly peddling lies and distorting facts in defense of Modi and his government.
In an attempt to make Modi look heroic, the channel eulogized him for taking 'revenge' by conducting an airstrike inside Pakistan's territory and mowing down more than 300 militants, of course without verifying the information.
It was later confirmed that the payload was dropped in an area with dense forest cover in Balakot village of Pakistan-held Kashmir, causing no casualties or damage to nearby buildings.
Following the release of Indian pilot Abhinandan, who was captured by the Pakistan army after his jet was downed, Republic carried a self-congratulatory headline: 'Titanic win for India: Pakistan to release IAF's Wing Commander Abhinandan tomorrow, crumbling under unprecedented pressure from India'.
Without acknowledging the 'peace gesture' of Pakistani premier Imran Khan, who displayed exemplary statesmanship by announcing the release of captured pilot and extended an olive branch to Modi, Republic and other run-of-the-mill Indian news channels gave its credit to Modi.
During three days when war frenzy was at its peak, Indian television studios resembled the frontlines of war with news anchors donning army fatigues and brandishing toy guns. It was so preposterous that some people on social media suggested them to channelize their anger at the border by participating in the real war.
There was a shrill competition of who shouts and screams louder to pass the ultimate test of patriotism. Some of these TV anchors thundered that "Pakistan has to be taught a lesson", with decibel levels consistently shooting upwards.
'Pakistan's propaganda busted', screamed a headline from a TV screen of one news channel as news anchor interviewed a retired army officer who 'analysed' the downing of Indian 'vintage jet'.
On Hindi news channel Aaj Tak, a special show was aired with half a dozen 'experts' dishing out their views on how to "bring Pakistan to its knees" and "remove the cancer once and for all."
Even before the news about the release of Abhinandan broke out, one Indian news channel anchor yelled from his air-conditioned TV studio - "Imran Khan, you bloody well return our pilot, and do it with an apology".
Amidst the frenzy and drumbeating for war, India's well-known media personality Pritish Nandy tweeted about his perennial confusion: "I am a little confused as to who is fighting the war against Pakistan. The brave Indian army or the shrieking TV journalists out to show their fake nationalism?"
Writing in The Wire, senior journalist Sidharth Bhatia, said the aggressive campaign against perceived 'enemies of the nation' aligned closely with the agenda of Modi-led government.
"The television channels – at least some of them – appear to be in a coordinated effort to build up a particular mood and narrative, one which suits the government," he wrote.
Putting things into perspective, veteran Hindi journalist Ravish Kumar in a speech delivered on February 24 in New Delhi, before the surgical strikes, said the mainstream media in India launched its "national curriculum" as soon as the Modi government came to power in 2014.
"At its core was the idea of ensuring a continual process of Hindu-Muslim divide. For that, it was necessary to create a growing sense of division among citizens. So, the media has been trying to break the people's very awareness of the idea of citizenship," said Kumar, who is known for his independent views.
"Since information and questioning are the basis of citizenship, the possibility of either has been severely curtailed. Our mainstream media does not question the government; on the contrary, it interrogates the people on behalf of the government," he further sad.
In his column for Bloomberg, globally renowned author and commentator Pankaj Mishra blasted India's 'jingoistic' television media.
"The jingoistic mass media brazenly dissembles, social media offers easy escape to many from deep feelings of inadequacy into grandiose notions of self and nation," he said. "Having a skillful self-publicist in power has only accelerated a stunningly widespread descent in India into self-aggrandizing fantasy."
Indian film actress and social activist Nandita Das said the Indian (television) media has proved to be a "propaganda machine of BJP, referring to Modi's party.
Top filmmaker Mahesh Bhat also denounced the war hysteria generated by India's television media. "Cruelty has always fascinated man. The gladiators used to fill the entire colosseum with crazy people baying for blood. Our TV channels pander to that savage side of man," he tweeted.
"Of course, the anchors in their sickeningly uniform (pun intended) discourse will have none of this and neither will the old generals to whom they pay handsome honorariums along with tea and biscuits to sound the war bugle in their studios," wrote journalist Pamela Philipose in The Wire.
During Hitler's time, Joseph Goebbels served as the head of the 'Ministry of Public Enlightenment and Propaganda', which controlled all forms of media and severely punished those who didn't follow the 'dictum'.
In India, there is no need of a Goebbels, as media willfully toes the official line and turns truth into lies and lies into truth, thus making mockery of the sacrosanct values and principles of journalism.