By Mehdi Sepahvand
Halbousi: Iraq stands by Iran in face of sanctions 
March 6, 2019 - 21:42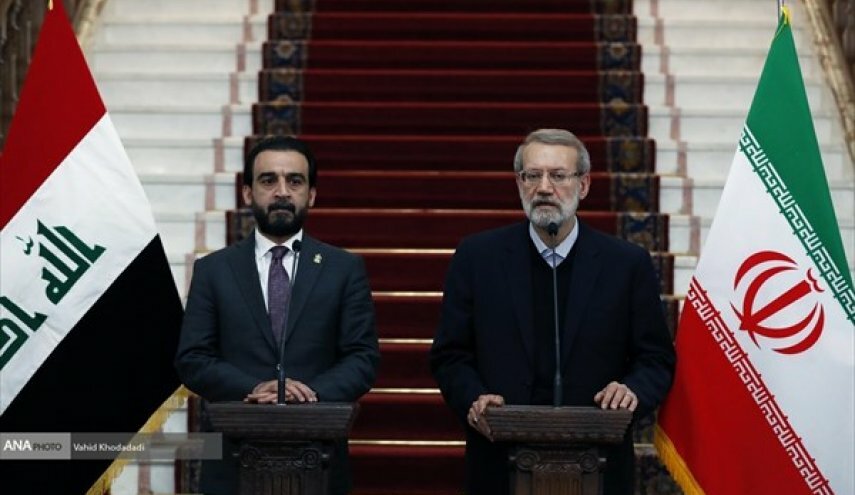 TEHRAN – Iraqi Parliament Speaker Mohamed al-Halbousi said on Wednesday that his country will stand by Iran's side as Tehran has been put under unilateral sanctions by the United States.
In a joint press conference with his Iranian counterpart Ali Larijani in Tehran, Halbousi said "Just as Iran had positive stance in fighting terrorism, we will also support Iran against sanctions."
"Besides, now it is the time to pursue the interests of our nations, which requires us to boost our cooperation in the economic sphere and elsewhere," the top Iraqi legislator suggested.
For his part, Larijani expressed satisfaction with the current security situation in Iraq, after it defeated Daesh in late 2017 with the help of Iran.
The top Iranian parliamentarian said Iran and Iraq enjoy friendly relations in various fields, particularly in politics, economy and culture.
He also praised joint efforts by the Iraqi army, senior cleric Grand Ayatollah Ali al-Sistani, and the government-backed Popular Mobilization Units (PMU), better known by the Arabic name as Hashd al-Sha'abi, in defeating the Daesh terrorist group.
Just as Iran had positive stance in fighting terrorism, we will also support Iran against sanctions," Iraqi parliament speaker notes.Elsewhere in his remarks, Larijani said that he had held talks with Halbousi on developing Tehran-Baghdad economic and parliamentary ties as well as on ways to establish sustainable security in the broader region.
Larijani also told his Iraqi counterpart that it should not be allowed that the Zionist regime find dominance over Arab states.
He also said it is necessary to help the Palestinians as an oppressed nation.
'U.S. presence in the region endangers democracy'
On the same day, Halbousi met with Ali Shamkhani, the secretary of Iran's Supreme National Security Council.
In that meeting, Shamkhani said the presence of American forces in the region poses "long-term threat to democratic and domestically empowered governments".
"The costly invasion of Daesh on Iraq showed that not only is America not prepared to defend people and governments against terrorists at times of crisis, but quite to the contrary, it employs all its weapons and intelligence capacities to manage and make instrumental use of it [terrorism]," he noted.
Shamkhani also hoped that an upcoming visit to Iraq by President Hassan Rouhani will provide a historic chance to make final decisions on border issues, legal affairs, and economic cooperation.
"With the measures taken over the past years, grounds have been amply laid for a surge in economic ties between the two countries," he noted.
Halbousi, for his part, stressed that Iran plays a big role in the region's security and stability.
"Conquering Daesh would not have been possible without the presence and active part of Iran," the top legislator asserted.
He also condemned any unilateral sanctions on other countries, saying Iraq will now allow its soil to be used as a base to attack any other country.

SP/PA