By staff and agency
Mogherini: Keeping nuclear deal is preserving UN Security Council credibility
March 13, 2019 - 21:59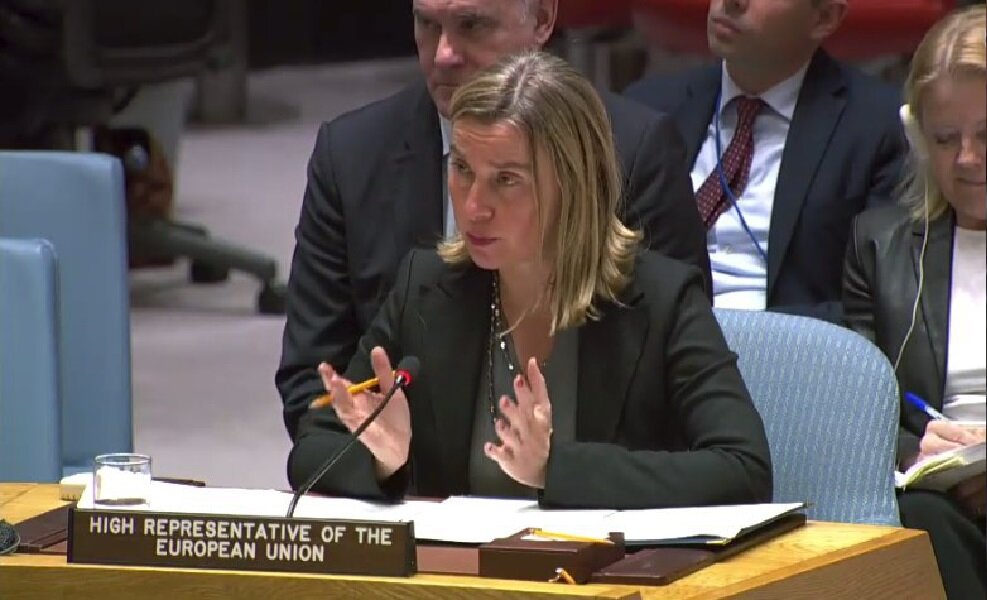 European Union foreign policy chief Federica Mogherini said on Tuesday that keeping the 2015 nuclear deal is a contribution to preserving credibility of the UN Security Council.
During a speech at the UN Security Council, she said, "Iran's implementation of its nuclear-related commitments has been confirmed in fourteen consecutive reports of the International Atomic Energy Agency – the latest just a couple of weeks ago."
"Alongside Iran's implementation, the lifting of nuclear-related sanctions is an essential part of the deal. So we will continue to work to preserve the economic dividends of sanctions-lifting," he said.
President Trump unilaterally pulled Washington out of the nuclear deal in May 2018 and ordered reimposition of sanctions against Iran. This happened despite the fact that U.S. intelligence agencies have also endorsed Iran's compliance to the deal.
On January 31, France, Germany and Britain announced the creation of INSTEX, a special purpose vehicle aimed at facilitating legitimate trade between European economic operators and Iran.
Mogherini, French Foreign Minister Jean-Yves Le Drian, German Foreign Minister Heiko Maas and British Foreign Secretary Jeremy Hunt has said INSTEX will support legitimate European trade with Iran.
Experts and diplomats have said the mechanism is not efficient to offset the U.S. sanctions against Iran.
On Tuesday, meetings started in Tehran between Iranian experts and senior directors of INSTEX, IRNA reported.
Experts from Iran's central bank, Foreign Ministry, Economy Ministry, and representatives of the private sector are participant at the meetings.
NA/PA