By Manijeh Rezapoor
Fans bid farewell to actor Jamshid Mashayekhi at Vahdat Hall  
April 6, 2019 - 18:56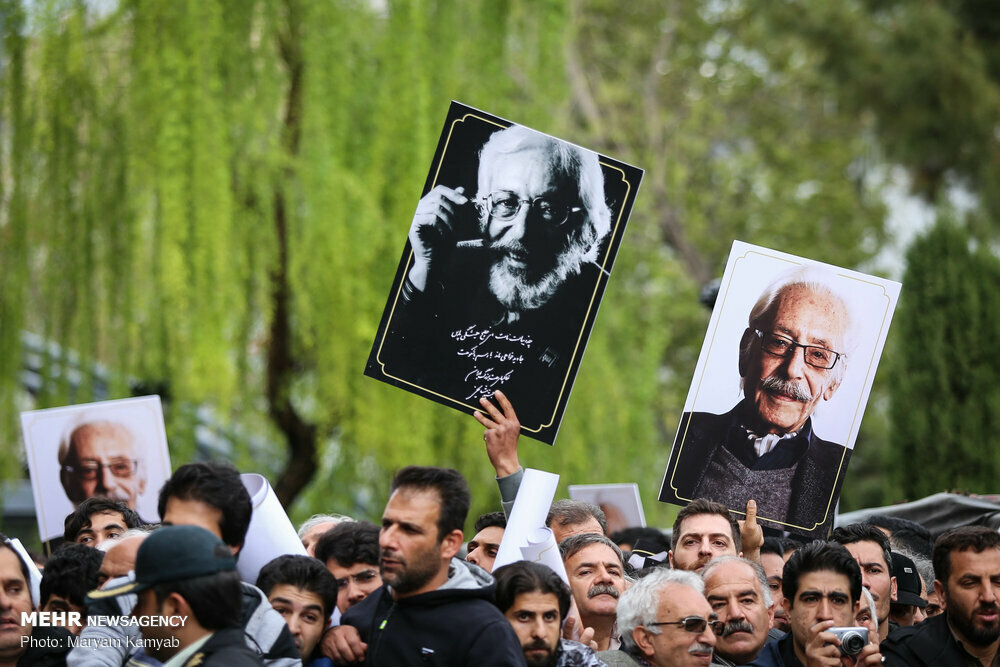 TEHRAN – People from all walks of life joined family and friends of legendary actor Jamshid Mashayekhi for his funeral in the courtyard of Tehran's Vahdat Hall on Saturday.
Mashayekhi, who starred in such acclaimed movies as "Kamalolmolk" and "Chrysanthemum", died last Tuesday at the age of 85.
Minister of Culture and Islamic Guidance Seyyed Abbas Salehi, Cinema Organization of Iran director Hossein Entezami, Iranian House of Cinema director Manuchehr Shahsavari and Theater Forum director Shahram Gilabadi were among the officials who attended Mashayekhi's funeral.
Mashayekhi's lifelong friends, Iraj Rad and Ali Nasirian, shared memories of their collaboration with him in short speeches during the funeral.
"Another darling of Iran's dramatic arts left us alone. The precious dear individuals, who served the art and culture of this land, are leaving us one by one and Mashayekhi is surely one of them," Rad said.
"Mashayekhi was one of the best. The theater stage was sacred for him. He worked with love. He dedicated his life to the culture of Iran. He would be best remembered for his love towards the art and culture of this land," he sighed with eyes filled with tears.
He also asked the Tehran Municipality and the officials in charge to name some streets and urban places after the veteran artist.
Nasirian began his words by expressing thanks to the appreciative crowd who had come together to bid farewell to Mashayekhi.
"When (Davud) Rashidi died, I said I did not expect to come here and attend his funeral ceremony. I said the same when Ezzatollah Entezami died. I expected to go on stage here with you (Mashayekhi) once again," he said with tearful eyes.
"I myself am not feeling well these days. I have lost my wife. I have lost Entezami, Rashidi and now Mashayekhi. These are great losses and great pain," he added.
"I happened to become acquainted with Mashsayekhi in 1957. We had a play that had one character missing and asked Mashayekhi to cooperate. He, who knew theater, began to cooperate and gradually became more experienced and expert." He stated.
"Mashayekhi was a follower of Iranian morals and I have always respected his good morals and behavior," he added.
Mashayekhi's son, Sam, also expressed thanks to the crowd for their participation and said that the soul of his father is surely happy to see this warm farewell.
Mashayekhi was buried in the Artists Section of Tehran's Behesht Zahra Cemetery.
Photo: Fans hold pictures of legendary actor Jamshid Mashayekhi in his funeral in the courtyard of Tehran's Vahdat Hall on April 6, 2019. (Mehr/Maryam Kamyab)

RM/MMS/YAW