Iran's most magnificent Buxus hyrcana endangered
April 15, 2019 - 11:38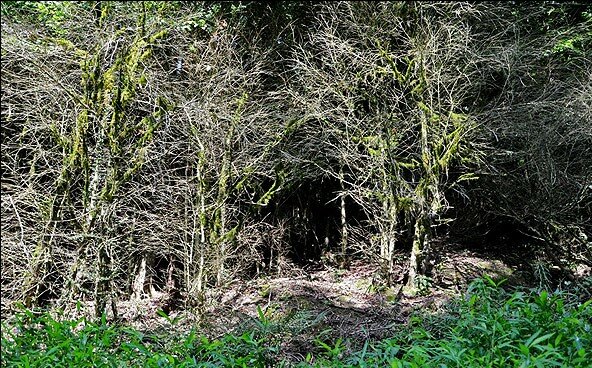 TEHRAN – The entire Buxus hyrcana across the country has begun to die owing to pests and diseases, Kamran Pour Moqaddam, head of forest council at Forests, Range and Watershed Management Organization has said.
Buxus sempervirens, the common box, European box, or boxwood, is an evergreen shrub or small tree growing up to 1 to 9 meters tall, with a trunk up to 20 centimeters, native to western and southern Europe, northwest Africa, and southwest Asia. Buxus hyrcana of northern Iran and eastern Caucasus are commonly treated as synonyms of B. sempervirens.
Several species of oak, chestnut, hornbeam, and Buxus have been severely affected by pests and diseases in the northern forests of the country, he said, adding, the forest ecosystem is under pressure and there was no choice but to implement the "breathing plan" banning exploitation of endangered forests in northern part of the country.
In January 2017 in line with the laws regulating all aspects of policy making and project managements with regard to environmental factors Majlis [Iranian parliament] has prohibited any exploitation of endangered forests by the fourth year of implementing the sixth five-year national development plan.
With 157 MPs voting for the bill, exploitation of forests for commercial and industrial purposes will be brought to a halt by 2020. By that time all exploitation contracts will be expired and none will be renewed.
All exploitation projects will be banned with the exception of broken branches, fallen or damaged trees which can be only authorized by the Forests, Range, and Watershed Management Organization.
Boxwood forests stretches to 40,000 hectares in the northern part of the country, almost the entire area has been infected with pest and disease, he lamented, adding that the only area of 450 hectares located in Golestan province, are not highly infected.
The disease affected these forests is a disease which can remain in soil for years, and start to affect in case of heat and moisture, so, fighting the disease is not easy, he explained, adding that we so far established a special working group to determine the number of infected trees to reach efficient solutions.
Human intervention in forest ecosystems has reduced the resilience of forests and provided favorable conditions for the development of pests and diseases, he noted, ISNA reported on Sunday.
On the other hand, climatic conditions, such as rising temperatures, reducing rainfall and droughts, changes in vegetation cover have exacerbated the situation, he added.
Unfortunately, 1.5 million hectares of Zagros forests, ranging northwest to southeast Iran, are infected with charcoal rot disease on oak trees, he stated.
Climate change, sand and dust generation, unsustainable exploitation of Zagros forest woods and implementation of some construction projects are the main reasons behind that, he concluded.
FB/MQ/MG