Locusts threaten 300,000 ha of farming lands in Iran
April 22, 2019 - 1:0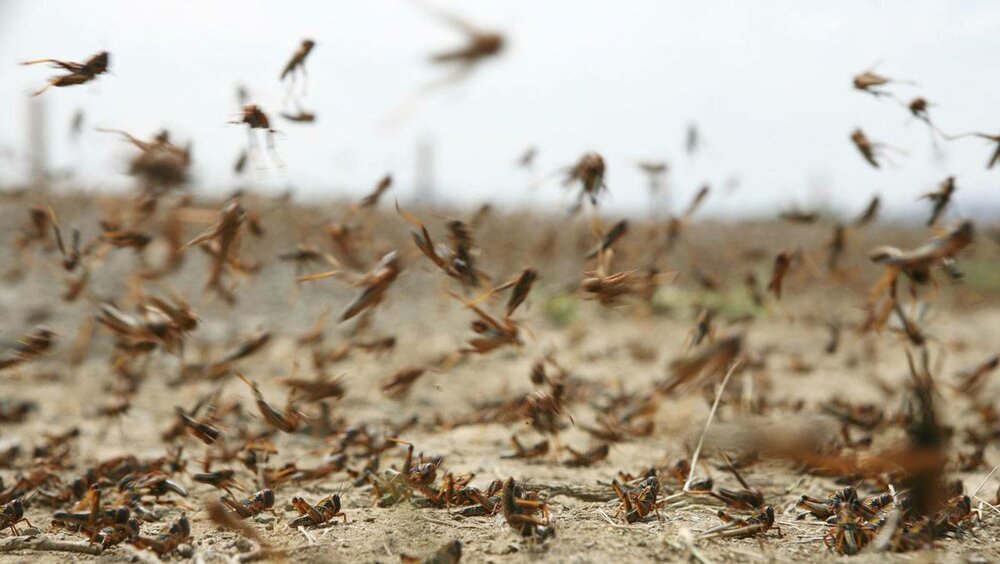 TEHRAN — Some 300,000 hectares of farming lands are threatened by desert locusts' breakout, Iran's Crisis Management Organization spokesperson has said.
According to Behnam Sa'edi, desert locusts from Saudi Arabia have so far penetrated into the provinces of Bushehr, Fars, Hormozgan, Kerman, Khuzestan, and Sistan–Baluchestan and not fighting them would result in major loss on farming lands and gardens in southern Iran.
So far in order to bring the situation under control aerial spraying of chemical insecticides has been carried out on 45,000 hectares of farming lands, YJC quoted Sa'edi as saying on Sunday.
Iran Plant Protection Organization as well as Agriculture Ministry are mainly tasked with fighting the pests, he said, adding that, Iran's Crisis Management Organization will also play its part in controlling the outbreak.
Sa'edi went on to regret that had Saudi Arabia taken necessary measures to fight desert locusts timely, the number of swarms hitting Iran would have been much less.
In mid-February, Food and Agriculture Organization of the United Nations (FAO) sounded alarm on desert locust outbreak in northeast Africa and Saudi Arabia triggered by heavy rains.
According to FAO's latest update released on April 3, desert locust situation is improving along both sides of the Red Sea due to intensive control operations that treated more than 80,000 ha during March and due to drying conditions.
However, second-generation breeding is still in progress in some coastal areas of Sudan and Saudi Arabia where ecological conditions remain favorable, causing additional hopper and adult groups, bands and a few swarms to form.
The report adds that some adult groups moved to the spring breeding areas in the interior of Saudi Arabia and laid eggs in March.
In southwest Asia, adult groups and a few swarms are breeding on the southern coast of Iran and hatching commenced at the end of March, the report added, highlighting that adult groups and at least one swarm appeared in adjacent areas of southwest Pakistan in mid-March where they laid eggs, but control operations were in progress in both countries.
The UN agency warns that that during April, locust numbers will decline along both sides of the Red Sea but will increase in the spring breeding areas in the interior of Saudi Arabia, and coastal and interior areas of southern Iran and southwest Pakistan where hatching will occur and hopper groups and bands are expected to form. Some of these could eventually form adult groups and perhaps a few small swarms by late May.
The UN agency urged all the affected countries to step up vigilance and control measures to contain the destructive infestations and protect crops from the world's most dangerous migratory pest.
$2.4m needed to fight locusts
According to IRNA news agency Iran Plant Protection Organization director Mohammad Reza Dargahi also said on April 17 that the necessary budget for fighting desert locusts is estimated at 100 billion rials (nearly $2.4 million).
So far the pests have not brought any serious loss at farming lands, however, they must be controlled as failure in controlling the locusts will endanger 1,250 trillion rials (nearly $30 billion) of agricultural products, he said.
In case of proper budget allocation the desert locus threat will be eliminated by the end of the [Iranian calendar] month of Tir (June 22-July 22), he added.
Desert locusts, serious threat to crop production, food safety
Desert locusts are short-horned grasshoppers that can form large swarms and pose a major threat to agricultural production, livelihoods, food security and the environment and economic development.
FAO explains that adult locust swarms can fly up to 150 km a day with the wind. Female locusts can lay 300 eggs within their lifetime while an adult insect can consume roughly its own weight in fresh food per day - about two grams every day. A very small swarm eats the same amount of food in one day as about 35,000 people and the devastating impact locusts can have on crops poses a major threat to food security, especially in already vulnerable areas.
Countries affected by desert locusts
During quiet periods (known as recessions) desert locusts are usually restricted to the semi-arid and arid deserts of Africa, the Near East and South-West Asia that receive less than 200 mm of rain annually. This is an area of about 16 million square kilometers, consisting of about 30 countries.
During plagues, desert locusts may spread over an enormous area of some 29 million square kilometers, extending over or into parts of 60 countries. This is more than 20% of the total land surface of the world. During plagues, the Desert Locust has the potential to damage the livelihood of a tenth of the world's population.
FAO's Locust Group uses a color-coded scheme; green for "calm," yellow for "caution," orange for "threat" and red for "danger", to keep the world informed of the seriousness of the current locust situation.
FAO has placed Iran, Saudi Arabia, and Sudan in the group of countries where crops face the threat of desert locusts.
MQ/MG