Tehran cinematheque to review Stanley Kubrick's "Shining" 
April 28, 2019 - 18:4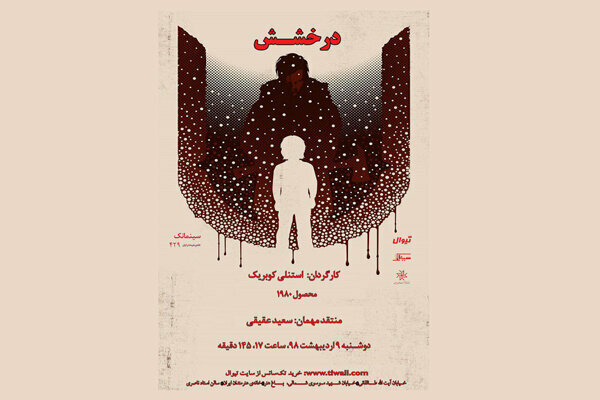 TEHRAN – The cinematheque of the Iranian Artists Forum (IAF) will review American filmmaker Stanley Kubrick's 1980 horror film "The Shining" tomorrow. 
Iranian critic Saeid Aqiqi will attend the review session, which will be organized after a screening at 5 pm.
Starring Jack Nicholson and Shelley Duvall, "The Shining" is about Jack, a writer and recovering alcoholic, who becomes the off-season caretaker of the isolated historic Overlook Hotel in the Colorado Rockies, and has to spend the whole winter there with his wife, Wendy and little son, Danny.
After a winter storm leaves them snowbound, Jack's sanity deteriorates due to the influence of the supernatural forces that inhabit the hotel, placing his wife and son in danger.
Photo: A poster for a screening of Stanley Kubrick's "The Shining" at the Iranian Artists Forum.
ABU/MMS/YAW