Iran-Germany archaeological survey ends in Jiroft
May 24, 2019 - 20:0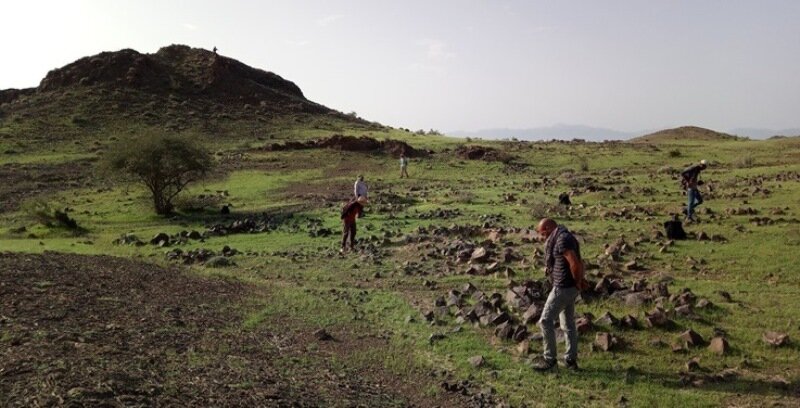 TEHRAN – A team of Iranian and German experts has finished their fifth season of archaeological survey in Jiroft, an ancient city in Kerman, southeastern Iran.
Over 2200 ha of lands were studied during the survey jointly conducted by Iran's Cultural Heritage and Tourism Research Center and Germany's Institute for Ancient Near Eastern Studies (IANES) of the University of Tubingen, IRNA reported.
Nader Alidad-Soleymani from Iran and Professor Peter Pfalzner from Germany co-led the survey, which has covered Kahnouj, Rudbar and Manujan counties.
The survey was carried out in various arenas comprising methodology of the research that includes field sampling methods, manners of pottery documentation, and setting up a database system, the report said.
Furthermore, Alidad-Soleymani, Mohammad Karami and Pfalzner respectively presented recent archeological findings along with objectives and plans of the archaeology season. They also turned the spotlight on sites of high importance, new findings on [carbon] dating and [ancient] settlement systems.
Back in 2008, Piotr Steinkeller, professor of Assyriology in Department of Near Eastern Languages and Civilizations of Harvard University, announced that Jiroft is the lost ancient city of Marhashi.
Steinkeller presented his theory during the first round of an international conference on Jiroft civilization, held in Tehran on May 5 and 6, 2008. Marhashi, (known in earlier sources as Warahshe) was a 3rd millennium BC polity, which was formed east of Elam on the Iranian plateau.
Big, sprawling Kerman Province is something of a cultural melting pot, blending various regional cultures over the course of time. It is also home to rich tourist spots and historical sites including bazaars, mosques, caravanserais and ruins of ancient urban areas.
AFM/MQ/MG