Ruhollah Zam, head of anti-Iranian Telegram channel, arrested by IRGC
October 14, 2019 - 14:23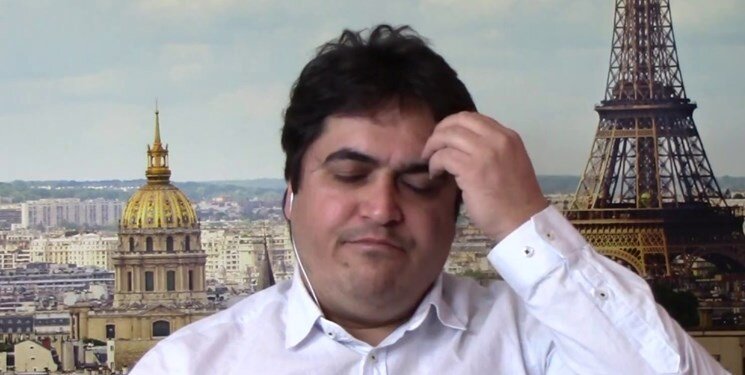 TEHRAN – The Islamic Revolution Guards Corps (IRGC) announced on Monday that Ruhollah Zam, the operator of the Telegram channel Seday-e Mardom (formerly known as Amad News), has been arrested during a complicated intelligence operation.
In a statement, the IRGC said Zam's arrest shows that the enemies' intelligence services have been defeated by the power of the IRGC's intelligence organization, ISNA reported.
Zam launched Amad News in 2015. The channel frequently posted fake news stories and called for violence with the aim of overthrowing the Islamic Republic of Iran.
During the protest rallies in December 2018, he urged the people to take arms against the government.
In its statement, the IRGC said it lured Zam into Iran using "clever, multidimensional and innovative tricks", which even deceived foreign intelligence agencies.
It said Zam was supported by those intelligence services to foment a psychological war on Iran in order to create divisions inside the country, especially targeting the younger generations.
The statement also pointed out that Zam's activities were intended to form the bedrock of violent and terrorist acts in Iran.
The IRGC also said the French intelligence service was behind Zam's activities, which were also backed by the U.S. and Zionist regime's spy services.
Back in December 2017, Telegram blocked Amad News for encouraging people to violence after a request by Iranian Minister of Communications and Information Technology Mohammad Javad Azari Jahromi.
"A Telegram channel is urging people to incite insecurity and use home-made bombs and arms. Isn't it time to stop promoting violence?" said Azari Jahromi in his Twitter account, mentioning the Telegram founder Pavel Durov.
Durov, in return, tweeted, "Calls for violence are prohibited by the Telegram rules. If confirmed, we'll have to block such a channel, regardless of its size and political affiliation."
The tweet was followed by the closure of Amad News channel, which had over 1.3 million followers at the time.
However, Zam resumed his activities by launching a new channel called Seday-e Mardom, which is translated as "voice of the people".
In its latest post on Monday, Seday-e Mardom reported the arrest of Ruhollah Zam by the Guards. The post was attached to a promotional footage of the IRGC Intelligence Organization and followed by the flag of the Islamic Republic of Iran, which suggested that the channel is now under the control of the IRGC.
MH/PA