Tehran, Dushanbe confer on expanding economic ties
June 8, 2022 - 16:16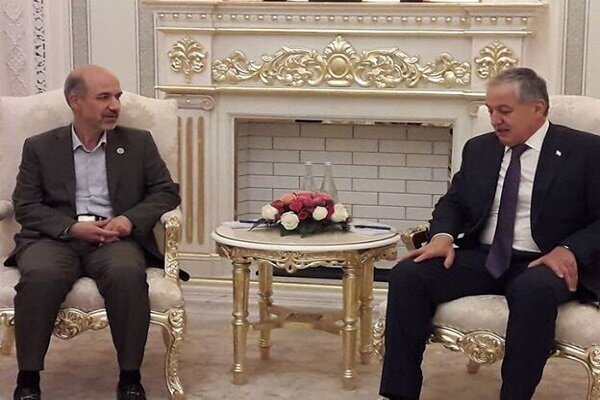 TEHRAN - Iranian Energy Minister Ali-Akbar Mehrabian, who has traveled to Tajikistan to attend the United Nation's second summit on the Water Action Decade, met with Tajikistan's Foreign Minister Sirojiddin Muhriddin in Dushanbe on Tuesday.
As reported by Mehr News Agency, during this meeting Mehrabian announced Iran's readiness for cooperation with Tajikistan in various fields including modern technologies.
Iranian minister of energy, who is also the chairman of the Iran-Tajikistan Joint Economic Committee, stressed the need to pave the way for the close collaboration of the private sectors of Iran and Tajikistan to further boost bilateral trade and economic relations.
Underlining the close relationship between the two countries as emphasized in the meeting of the Tajik president with the Leader of the Islamic Revolution, the two sides stressed the need to make optimal use of the capacities presented by the two countries' Joint Economic Committee meeting in different fields.
In another meeting held on Tuesday, Mehrabian met with Tajiskiatn Prime Minister Kokhir Rasulzoda.
In this meeting, the minister voiced the readiness of Iranian companies to export technical and engineering services to Tajikistan.
The prime minister of Tajikistan, for his part, mentioned the recent visit of Tajikistan's President Emomali Rahmon to Tehran during which 17 cooperation documents were signed, saying that those documents pave the way for a lot broader mutual cooperation.
Rasulzoda said that the horizon of the two countries' cooperation is now broader than ever before, announcing Dushanbe's readiness for unprecedented economic and business ties.
The prime minister also ensured Mehrabian that he is well aware of the competence and high quality of the technical and engineering services of the Iranian companies at rational prices.
The United Nations General Assembly has declared 2018-2028 as the International Water Action Decade and every year a conference is held on the issue of "Water for Sustainable Development". The second assembly of the mentioned conference was held in Dushanbe.
EF/
Photo: Energy Minister Ali-Akbar Mehrabian (L) holds talks with Tajikistan's Foreign Minister Sirojiddin Muhriddin in Dushanbe on Tuesday evening.