Tehran, Doha confer on increasing transport routes during World Cup 2022
October 21, 2022 - 16:21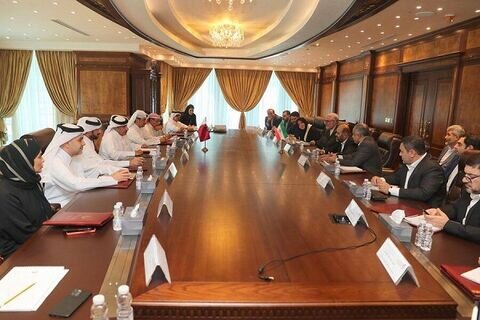 TEHRAN – In a meeting between senior Iranian and Qatari officials on Thursday the two sides agreed on adding new transportation routes between the two countries during the World Cup 2022 event, IRIB reported.
Iranian Transport and Urban Development Minister Rostam Qasemi, who visited Doha on top of a high-ranking delegation, met with Prime Minister of Qatar Khalid bin Khalifa bin Abdulaziz Al Thani and the country's Transport Minister Jassim bin Saif bin Ahmed Al Sulaiti to discuss transportation and tourism cooperation during World Cup 2022.
In this meeting, which was also attended by the Qatari minister of commerce and the head of Qatar Tourism Authority and the director of Qatar Airways, it was also agreed to increase the number of flight permits issued by both countries.
The officials also reached a preliminary agreement for establishing a new passenger shipping line.
The two sides also discussed the possibility of Qatar's investment in Iran's transportation infrastructure projects, especially in the country's southern ports.
Qasemi's visit to Doha was at the invitation of the Qatari transport minister who visited Tehran last month.
In late September, Al Sulaiti traveled to Tehran to explore avenues of mutual cooperation with Iran's transport officials.
During a meeting between Al Sulaiti and Qasemi in Tehran, they emphasized the necessity for the expansion of relations between the two countries in the sea and air transportation as well as international transit.
In this meeting, Qasemi emphasized the existence of many cooperation opportunities for Iran and Qatar and stressed the establishment of a joint office between the two countries for cooperation in the field of transportation.
Al Sulaiti, for his part, stated that the relations between the two countries are deep, and considered the creation of a joint office proposed by the Iranian minister as necessary for the development of these relations.
Back on June, Iran and Qatar inked a memorandum of understanding (MOU) at the end of the two countries' eighth Joint Economic Committee meeting in Doha to outline avenues for future cooperation.
The MOU was signed by Iranian Energy Minister Ali-Akbar Mehrabian and Qatar's Minister of Commerce and Industry Sheikh Mohammed Bin Hamad Bin Qassim Al-Thani who co-chaired the committee meeting.
This memorandum determines the framework of cooperation in various fields including transit, transportation, industry and trade, energy, customs, and free zones, tourism, culture, agriculture, sports, etc.
EF/