World Braille Day: opening up written world to the blind
January 3, 2023 - 19:26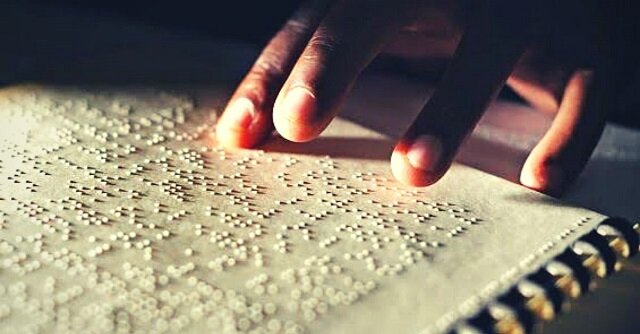 TEHRAN – To raise awareness of the importance of Braille as a means of communication in the full realization of human rights for blind and partially sighted people, World Braille Day, celebrated since 2019, is observed annually on January 4.
Even under normal circumstances, persons with disabilities—one billion people worldwide— are less likely to access health care, education, employment and to participate in the community.
They are more likely to live in poverty, experience higher rates of violence, neglect, and abuse, and are among the most marginalized in any crisis-affected community.
For the visually impaired, life under lockdown has posed several issues in terms of independence and isolation, especially for people who rely on the use of touch to communicate their needs and access information.
The pandemic has revealed how critically important it is to produce essential information in accessible formats, including in Braille and audible formats.
In Iran, October 16 is called White Cane Day. The white cane is a symbol that shows the index of the social life of visually impaired citizens and contributes to the independence of the blind.
According to a report by the World Health Organization, there are currently 284 million people in the world who are visually impaired, and 39 million people are blind.
It is estimated that there are about 150,000 blind people in Iran and about 800,000 Iranians have some degree of visual impairment.
Braille History
The term 'Braille' was dubbed after its creator. Louis Braille was a Frenchman who lost his eyesight as a child when he accidentally stabbed himself in the eye with his father's awl.
From the age of 10, he spent time at the Royal Institute for Blind Youth in France, where he formulated and perfected the system of raised dots that eventually became known as Braille.
Braille completed his work, developing a code based on cells with six dots, making it possible for a fingertip to feel the entire cell unit with one touch and moving quickly from one cell to the next.
Eventually, Braille slowly came to be accepted throughout the world as the main form of written information for blind people.
Unfortunately, Braille didn't have the opportunity to see how useful his invention had become. He passed away in 1852, two years before the Royal Institute began teaching Braille.
Braille's marvelous aid that opened up a world of accessibility to the blind and visually impaired was recognized by the United Nations General Assembly (UNGA).
In November 2018, January 4 was declared World Braille Day. The first-ever World Braille Day was commemorated the following year and it was celebrated as an international holiday.
---------Blindness is not a failure
Abu Abd Allah Ja'far ibn Muhammad Rudaki, better known as Rudaki, was a Persian poet regarded as the first great literary genius of the Modern Persian language.
Born in 859 in Rudak (Khorasan), Rudaki is one of the people who have proved in practice that blindness is not a failure and the end of life. He composed poems in the modern Persian alphabet and is considered a founder of classical Persian literature.
As it seems, Rudaki was the first person to combine different roles that were yet distinguishable entitles in the 9th-century royal court: musician, poet, declaimer/reciter, and copyist.
FB/MG