Raisi meets Duma chairman, says Iran-Russia ties will benefit entire region
January 24, 2023 - 14:10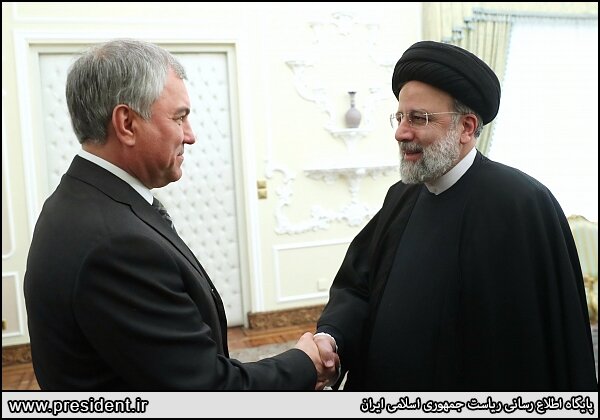 TEHRAN – President Ebrahim Raisi told visiting Russian State Duma chairman Vyacheslav Volodin on Monday afternoon that Tehran seriously pursues full implementation of agreements with Russia, noting that Iran-Russia ties will benefit the entire region.
Stating that the economic relations between Tehran and Moscow are continuously increasing, Raisi said, "The two countries have diverse and numerous capabilities and capacities in various fields of trade, energy, transit and transportation, which can be operated to expand bilateral relations."
The president also said that the Islamic Republic seriously pursues the full implementation of the agreements with Russia.
"The capacities and potentials of the two sides can complement each other, and their use not only have benefits for the region but also secures the interests of the two countries," the president remarked, Mehr reported.
The chairman of the State Duma, for his part, noted that the president's approach to strengthening regional and neighborhood relations would facilitate the expansion of cooperation between the two countries.
"The Russian Federation also has the same approach and opinion about enhancing the level of engagement with the Islamic Republic of Iran, as our schedule and agenda are set by the will of the two countries to constantly develop bilateral cooperation," Volodin added.