Fighting narcotics costs Iran $1 billion a year
February 4, 2023 - 18:16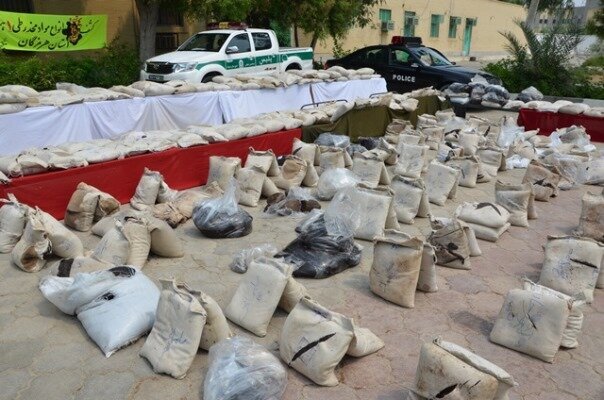 TEHRAN - Iran spends about $700 million to $1 billion annually to fight against drugs, Eskandar Momeni, the secretary general of the anti-narcotics headquarters, has said.
According to the reports of international institutions and organizations, about 92 percent of drug discoveries are made by Iran, he said, adding that the country is completely alone and the cost is borne by the government and the people.
Momeni emphasized that the international community should increase support to the Islamic Republic to fight against narcotics, especially to curb trafficking, IRNA reported.
"A significant part of the financial burden in the field of combating narcotics includes blocking the borders, dealing with smuggling, identifying and monitoring the transit routes, and offering treatment and rehabilitation services."
"However, Iran has not received any notable help from international organizations until today."
The United Nations Office on Drugs and Crime opened its representative office in Tehran in 1999, and since that year, Iran has had good cooperation with the United Nations in the field of combating drugs and related fields, he highlighted.
Iran is considered the main partner of the United Nations in the field of combating drugs, and the United Nations has repeatedly thanked Iran for its actions in this field, Momeni stressed.
Despite approving Iran's measures, the United Nations has been financially dependent on Western and European countries, he lamented.
Western countries refuse to financially support the UN for various reasons, such as politicized approaches to human rights, or cruel and unilateral U.S. sanctions, he concluded.
During the 65th session of the UN Commission on Narcotic Drugs which took place in March 2022 in Vienna, Austria, Momeni called on the United Nations to present a comprehensive and effective action plan to curb opium cultivation and production and to address the destructive problem of narcotics.
Criticizing that despite numerous UN documents and the constant emphasis on the principle of shared responsibility, Iran has had the least amount of international support, despite its global anti-narcotics actions, hosting more than a few million refugees and fighting terrorist threats in the region, he noted that it is time for the United Nations to present a comprehensive and effective action plan to curb opium cultivation and production to address the devastating problem of narcotics.
He also addressed the issue of unilateral sanctions against Iran, saying that the actions of some countries in imposing harsh sanctions against Iran, politicizing international cooperation, and disrupting Iran's relentless struggle against international drug networks is a clear violation of international law, human rights, and UN resolutions.
In the end, Momeni made suggestions to the Commission to reduce challenges and enhance international efforts to address narcotics trafficking, including, full financial, technical, and equipment support to countries at the forefront of combating international drug and psychotropic substances trafficking.
MG