Officials embrace Tehran-Riyadh rapprochement
March 11, 2023 - 21:20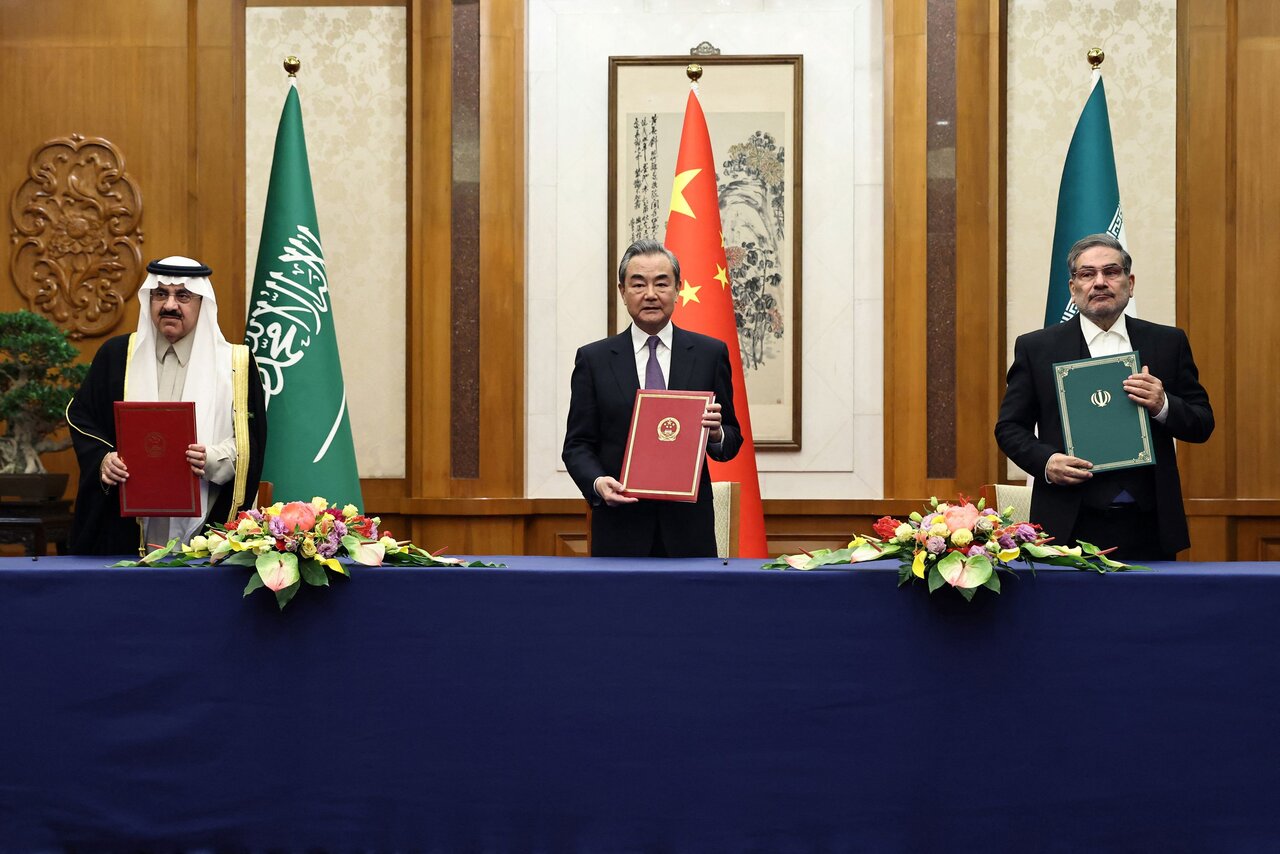 TEHRAN- The reconciliation between Iran and Saudi Arabia, two regional powerhouses who on Friday agreed to re-establish diplomatic relations after a seven-year hiatus, has been enthusiastically greeted by certain Iranian and foreign officials as well as bodies.
Iran and Saudi Arabia decided to restart diplomatic ties and reopen their embassies and diplomatic missions over the next two months after days of intense negotiations in Beijing.
Hezbollah Secretary General Seyed Hassan Nasrallah on Friday praised the rapprochement between Iran and Saudi Arabia as a positive development that might broaden possibilities in the region.
Nasrallah's remarks were broadcast live on TV.
Iran's Supreme National Security Council's secretary expressed appreciation to Iraq for holding five rounds of talks that ultimately led to rapprochement between Tehran and Riyadh.
Ali Shamkhani thanked Iraq for its efforts in a phone conversation with Iraqi Prime Minister Mohammed Shia' Al Sudani on Friday.
Shamkhani credited the success of Tehran and Riyadh's reconciliation to five rounds of preliminary talks between Iran and Saudi Arabia, which were hosted by Iraq and Oman.
He also said that the establishment of "new and extremely serious conversations" between the Iranian and Saudi delegations was made possible by Iranian President Ebrahim Raisi's trip to Beijing in February and his meetings with Chinese President Xi Jinping.
Mohammad Baqer Qalibaf, Speaker of the Iranian Parliament, praised the reestablishment of diplomatic ties with Saudi Arabia as a crucial step in maintaining security in the Persian Gulf.
The foreign ministers of Oman, Qatar, and Iraq expressed their congratulations on the warming of ties between Tehran and Riyadh in separate phone calls with Iranian Foreign Minister Hossein Amir Abdollahian on Friday night.
The Iran's top diplomat tweeted, "The return to normal of relations between the Islamic Republic of Iran and Saudi Arabia will provide great capacities for the two countries, the region, and the Islamic world."
Amir Abdollahian further emphasized that the government of Iranian President Ebrahim Raisi places a strong emphasis on good neighborliness as a cornerstone of its foreign policy.
Hours after Iran and Riyadh struck the arrangement with Chinese mediation in Beijing, the Syrian Foreign Ministry issued a statement expressing Damascus' appreciation for the agreement.
The deal was hailed as "a triumph for dialogue, a victory for peace, giving substantial good news at a time of tremendous volatility in the globe," according to Wang Yi, China's top diplomat.
The European Union foreign policy chief's spokesperson stated that the EU welcomes the reported agreement on the resumption of diplomatic relations between Iran and Saudi Arabia.
The Saudi kingdom broke diplomatic ties with Iran in January 2016 after some Iranian protestors stormed the Saudi embassy in Tehran in response to the execution of famous Shia cleric Sheikh Nimr Baqir al-Nimr.