Lake Urmia's water level rising continuously
March 27, 2023 - 15:27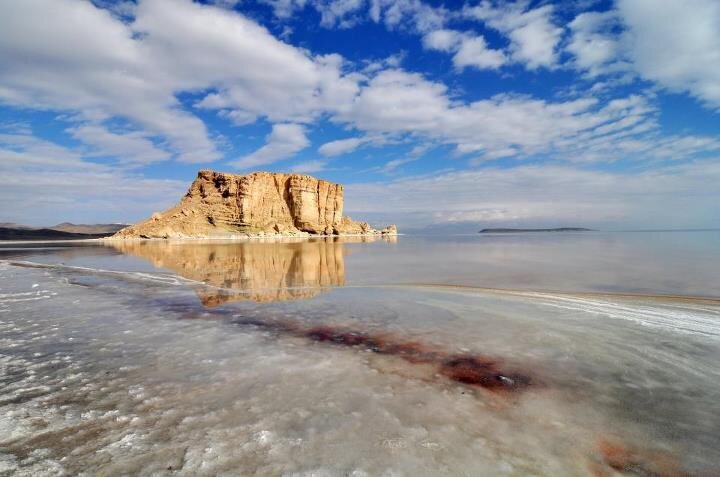 TEHRAN – The water level at Lake Urmia is continuously rising thanks to recent rainfalls and releasing water from the neighboring dam.
The current level of Lake Urmia is 1,270.26 meters, an increase of more than 13 centimeters compared to six months ago and the rise will continue, IRNA reported.
The area of the lake has also increased by more than 311 square kilometers, reaching 1,241 square kilometers.
The volume of water at Lake Urmia is now around 1.570 billion cubic meters, which has increased by 330 million cubic meters.
Lake Urmia in the northwestern West Azarbaijan province started to dry up in the 2000s.
The lake is the largest lake in West Asia and the sixth-largest Salt Lake in the world with a water surface area of 5,000 to 6,000 square kilometers.
Some 5 trillion rials (about $10 million) have been recently earmarked for speeding up the implementation of the Lake Urmia revival plan.
The lake is designated for the List of Wetlands of International Importance, Ramsar Site, as well as a UNESCO World Biosphere Reserve, which is a protected area with the aim of conserving nature and culture in the region and community development.
On February 24, the first phase of a national project to transfer water from the Kanisib Dam to Lake Urmia came on stream.
The construction of a tunnel with a length of 36 kilometers to transfer water from the Dam to the Lake started in 2015, IRNA reported.
Some 35 trillion rials (about $70 million) have been spent on the project.
In the first phase, 300 million cubic meters of water are projected to enter Lake Urmia every year.
The second phase is going to come on stream in the current Iranian calendar year that started on March 21, increasing the volume of water to 600 million cubic meters.
MG