By Sadegh Fereydounabadi
How Iran turned regional hourglass upside down
May 7, 2023 - 22:2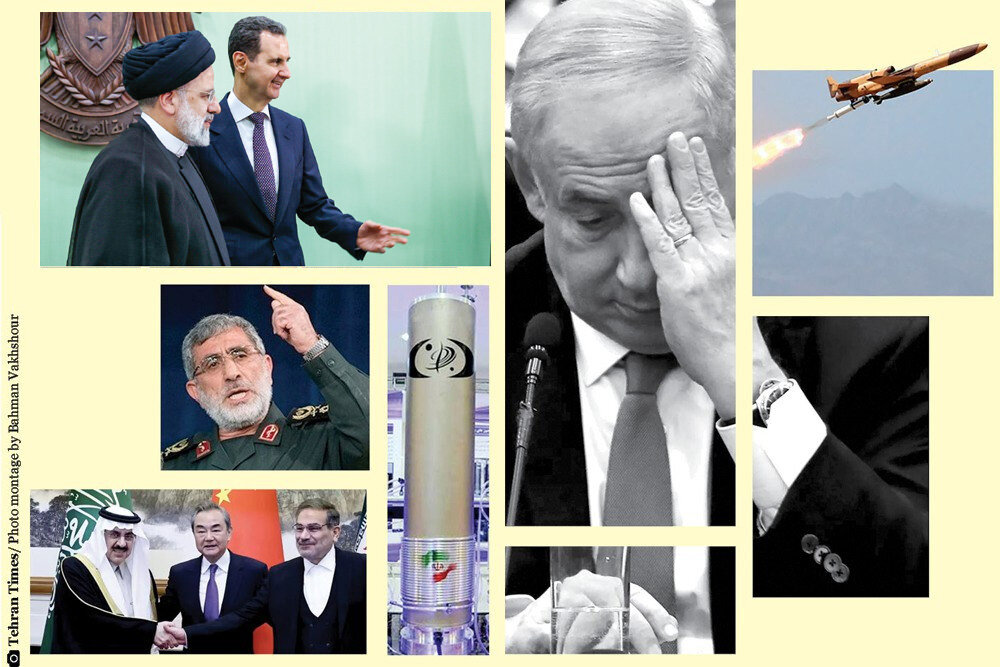 TEHRAN – Only two and a half years ago, Israel was on a normalization spree in the West Asia region, touting anti-Iranian alliances with some of the region's countries.
That trend is bucked with Iran rapidly improving ties with a remarkable number of countries, including those that forged relations with Israel.
Since 2020, Israel has been on the move to break its historical isolation with top-down normalization deals with Arab states such as the United Arab Emirates, Bahrain, Morrocco, etc. In recent months, it was on the cusp of another deal with Saudi Arabia, an Arab heavyweight with which normalization would impact the whole region.
And instead of finding common ground in Palestine, Israeli leaders effusively portrayed Iran as the shared threat to the region in order to coax Arab leaders into recognizing Israel. Their effort ended in an abysmal failure as Arab states were unable or maybe unwilling to replace Palestine with Iran as the common ground for peace.
This coincided with an Iranian reconsideration of its relations with neighboring countries under President Ebrahim Raisi. After years of tensions, Iran moved to patch up ties with Saudi Arabia and its Arab allies.
The new reconciliatory atmosphere in the region was on full display during the recent visit by President Raisi to Syria, where he laid the groundwork for strong, longstanding relations with Syria at a time when the Arab country is moving back to the Arab fold.
Syria has been a major point of contention over the last ten years. But Thanks to efforts by General Ismail Qaani, the country is now stabilized and rising from the ashes of a devastating war.
In an important development that is expected to further deepen Israel's isolation, Syria was readmitted to the Arab League on Sunday.
With the region moving toward peace and stability, Israel is increasingly feeling isolated. And Israelis are now acknowledging that this trend is led by Iran. "Whereas Israel was until recently the one that forged anti-Iran alliances and extensive cooperation in the Middle East and beyond, this situation has been reversed. Iran has turned the hourglass upside down," a senior Israeli political source told Al-Monitor.
Pointing to Raisi's trip to Syria that concluded on Thursday, the source saw more worrying signs for Israel. The Israeli source said that to see President Raisi watching Israeli outposts on the Golan Heights through binoculars or meeting with the heads of the Palestinian organizations in Damascus is not really encouraging.

As things stand, Iran appears to have successfully bucked the trend of normalization and expanded its regional relations.
And the improvement of Iran's foreign relations has positively impacted its economy. On Sunday, President Raisi revealed Iran's exports under his administration broke a 40-year record of $50 billion in value. And this happened under blanket U.S. sanctions against Iran, which have been reimposed in 2018 at Israel's urging.
All in all, Iran is rapidly reclaiming its place in the region while Israel is plunging into isolation.