Transit routes will neutralize sanctions 
May 19, 2023 - 21:16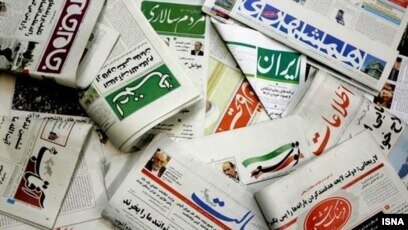 Siasat-e-Rooz devoted its editorial to the railway agreement between Iran and Russia and said: The truth is that the solution to neutralize the sanctions does not pass through negotiations with Europe and America, which are facing many internal challenges these days, but through interaction with neighbors. Rail and transit connections play an important role in this field.
It is an undeniable issue that these relations are not based on isolation but are due to Iran's exclusive geographical position as well as now and future facts of the international system. Speeding up this process will mark a precious place for Iran in the future world order. It is necessary to achieve this goal by expanding transit routes with neighbors.
Etemad: Considerations about the Rasht-Astara railway

In a note, Etemad addressed the railway agreement between Iran and Russia. It wrote: The International North-South Transport Corridor (INSTC) is considered one of the most important international projects. The Rasht-Astara railway project as part of the INSTC that will connect Iran to Azerbaijan, Russia and then Europe once it is completed.

The newspaper mentions railway projects of Chabahar–Zahedan, Shiraz–Bushehr– Bandar Asalouye, Durud–Khorramabad and also Rasht-Anzali-Astara as four priority railway projects. Among these projects, the construction of the Rasht-Astara railway is very important, because this route, along with the two eastern corridors (Sarkhs and Incheborun), which are the communication bridge between Iran and Turkmenistan and the countries of the CIS region, can compensate for the Jolfa gap and lead to a more favorable connection for Russia. The construction of this railway line can provide connection to Anzali port and maritime communication with Russia, and this decision has been made in line with the North-South corridor, which is very hopeful.
Hamshahri: The difference between Hajj before and after the revolution

In its editorial, Hamshahri addressed the issue of Hajj. It wrote: Before the revolution, Hajj was not more than prayer, circumambulation, Sa'y and attendance at Mashar. But instantly, after the revolution, Hajj became a center of disavowal of polytheists. Imam Khomeini promoted Hajj with the political and moral mutation in the world.
To revive the religious capacities was basically the art of Imam Khomeini. It was not only in Hajj. This was also the case with prayer and fasting. The prayer turned from being alone in the alter into a collective ritual that has social and political results. He extended the tears and mourning from the religious party to the anti-rebellion and anti-oppression. He changed empathy from being neighborly to helping the oppressed in the world.
Arman-e-Emrooz: Role of foreigners to deny Iran's water rights from Helmand

Arman-e-Emrooz analyzed the water dispute between Iran and Afghanistan. It wrote: While Sistan-Baluchistan province has been facing a serious shortage of water for a long time, the 13th government (sitting administration) has not yet been able to resolve the dispute between Tehran and Kabul regarding the Helmand water rights. In the last meeting, Raisi emphasized: "Iran's right to water from Helmand is an important issue, and he gave a special mission to the ministers of energy and foreign affairs and the special representative of the president for Afghanistan affairs to follow up this issue seriously."
After this order, the President's Special Representative for Afghanistan affairs, Hassan Kazemi Qomi, said in an interview with one of Iran's TV: "Taliban officials have always emphasized the implementation of the 1973 Treaty between the two countries, but he blamed some experts for not fulfilling this agreement. Some specialists of the previous Afghan government who are working with the Taliban government and are still in contact with the former officials are preventing the implementation of the commitments made in the Helmand Treaty. These former Afghan officials are also aligned with foreigners."

Ham Mihan: America and the revival of JCPOA
In a commentary, Ham Mihan pointed to the possibility of revitalizing the JCPOA by quoting an expert who evaluated the connection between the American message to revive the JCPOA and the secret meeting of the Biden government with the Senate and wrote: "As it was officially declared, the senators in this meeting asked Biden to abandon appeasement and to deal more sharply with Iran, especially regarding actions in the Persian Gulf. Biden has also explained why he has pursued a policy of tolerance with Iran and is trying to reach an agreement, but he has given Israel the authority to deal with Iran so that he himself does not get involved with Iran. In the meantime, even figures like Bob Menendez, who are strongly pro-Israel and against Iran and the JCPOA, have also accepted that the "stick policy" should not be used with Iran."