Six diplomatic missions
May 20, 2023 - 20:53
"Against enemies' desires, maintain policy of honorable ties with neighboring, Islamic, and friendly countries"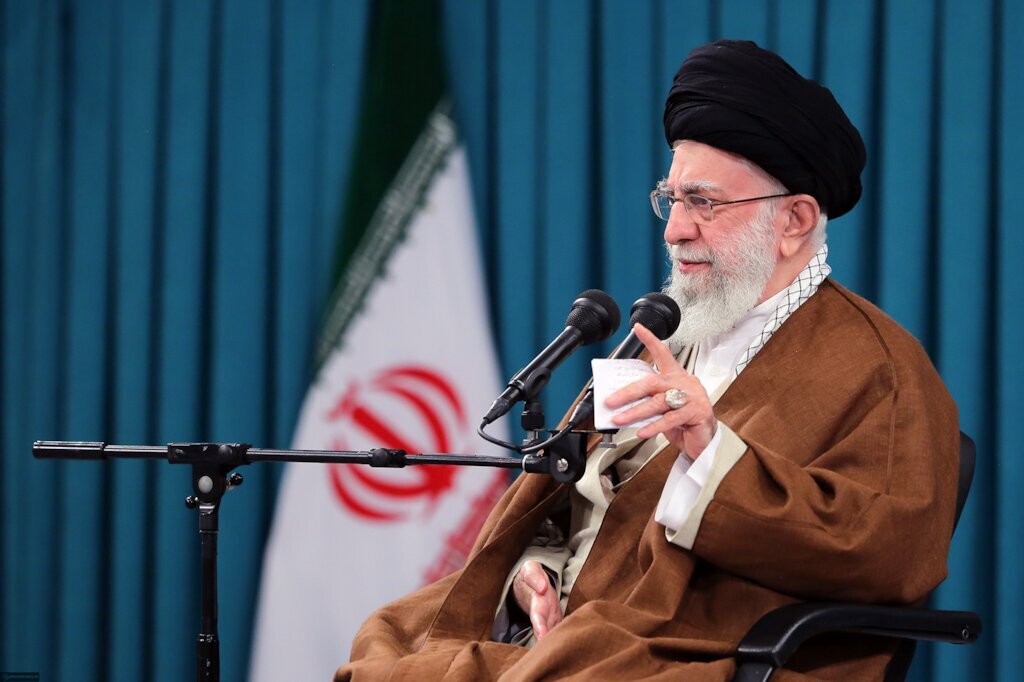 TEHRAN- Ayatollah Seyed Ali Khamenei, Leader of the Islamic Revolution, on Saturday emphasized the importance of maintaining honorable relations with neighboring, Islamic, and friendly countries.
Addressing a group of Iranian Foreign Ministry officials and ambassadors to other countries in Tehran on Saturday, Ayatollah Khamenei delineated the meanings of the three keywords "honor, wisdom, and expediency" in the Iranian foreign policy, according to khamenei.ir
"Honor is the negation of imploring diplomacy, both in words and in content and the avoidance of pinning hopes on the words and decisions of foreign officials," he said.
The Leader described the lack of reliance on principles in foreign policy as a violation of honor and the cause of hesitancy.
"In all global issues, in 'words, actions and when facing the measure that others have taken' we move with honor and in accordance to our principles," he added.
Ayatollah Khamenei described the meaning of "wisdom" as speech and behavior that is "wise, well thought-out and prudent."
"All measures in foreign policy must be logical and well thought-out. Deterring, uncalculated decisions and actions have inflicted harm on the country at certain times."
The Leader of the Revolution called the lack of unwarranted trust in the other parties as another concept of "wisdom."
"Of course, not everything should be regarded as a lie in the world of politics, because there are truthful and acceptable words as well, however, not everything that is said should be trusted," he said.
"Expediency" in the sense of having flexibility in places where it is necessary to bypass hard and rocky obstacles in order to continue a path, was another important keyword that the Leader clarified.
In this regard, he underlined that, "Being flexible does not mean that you should ignore principles in the aforementioned sense. Of course, a few years ago, when I mentioned the term, 'heroic flexibility', it was misunderstood both inside and outside the country. Because expediency means finding a way to overcome difficult obstacles and to continue the path until you reach your goal."
Ayatollah Khamenei explained six mandatory rules in foreign policy, underlining that, "compliance with these indicators is a sign of successful foreign policy, and if these rules are not observed, there will be problems either in the theory of foreign policy or in the functioning and operations of diplomacy."
The first principle that the Leader outlined is the ability to convincingly explain the rationale behind the country's approach to various issues.
The other five principles included: "Having an effective, directive presence in various political-economic phenomena, events and currents in the world," "Overcoming and reducing threatening policies and decisions against Iran," "Weakening dangerous centers," "Strengthening the governments and organizations that are allies with Iran as well as developing the country's strategic depth," and "The ability to detect the hidden layers in regional and global decisions and actions."
The Leader of the Islamic Revolution hailed the current Iranian administration's policy to communicate with neighboring countries, describing it as a correct and important measure. He added that "foreign hands are actively creating problems between Iran and its neighbors and you should not allow this policy to be realized. Contrary to the enemy's desires, you should continue having relations with our neighbors, Islamic countries and countries whose policies are in line with that of the Islamic Republic."
He also considered it important to maintain a having relations with like-minded and Islamic countries, even if they are located in far regions. "Today, the cooperation and alignment of some big and important countries of the world with the Islamic Republic of Iran in some processes and fundamental lines of international politics is an unprecedented phenomenon, and we should appreciate this opportunity and strengthen the relations with those countries."
Pointing to the issue of the ambassadors' meeting regarding a transformation in the current world order and the frequent repetition of this issue in world literature, the Leader said, "The change in the world order is a long-term process full of ups and downs and affected by possible unforeseen events, and different countries have different and conflicting opinions and approaches to it."
He considered it necessary to properly place Iran in the new order by monitoring and evaluating global developments and recognizing the exact direction and behind the scenes of events. "Based on this observation and evaluation, practical suggestions should be extracted. Our ambassadors and heads of delegations play an important role in this field, especially in the influential countries."
Ayatollah Khamenei remarked the importance of foreign policy and its important role in the administration and improvement of the country. "Despite paying attention to the economic and cultural factors in the analysis of the country's current state, the foreign policy factor is often neglected in discussions. This is while a good and successful foreign policy will definitely improve the state of the country. On the other hand, disturbances and problems in foreign policy will result in problems in the general situation of the country, of which there are plenty of examples."
The Leader of the Revolution described Iran's representatives abroad as representatives of the Iranian people, underlining that their behavior reflects the identity and nature of the Iranian nation. "An Iranian diplomat must serve as the epitome of faith, patriotism towards Iran, zeal, determination, dynamism, and hard work."