Leader warns of foreign children's stories dominance at Tehran book fair
May 14, 2023 - 18:40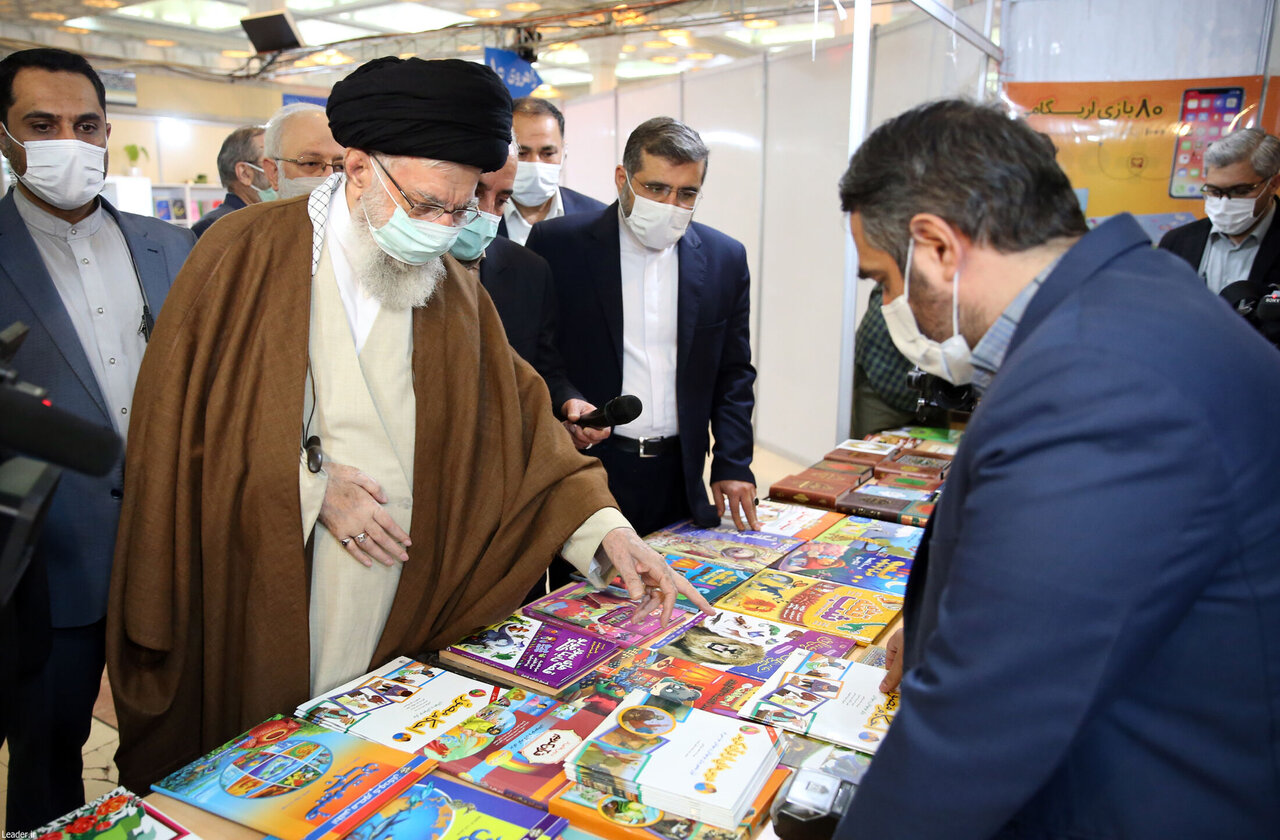 TEHRAN – The Leader of the Islamic Revolution, Ayatollah Seyyed Ali Khamenei warned of the dominance of foreign children's stories in Iran during his visit to the 34th Tehran International Book Fair on Sunday.
"As much as you are able, produce quality books by local writers in order to attract children and young adults," the Leader told the publishers.
"Foreign children's stories are still dominant; that's a major shortcoming," he warned.
Ayatollah Khamenei also met Morteza Sarhangi, an author of books on the 1980s Iran-Iraq war who is also the director of the Resistance Literature and Art Office at the Art Bureau of the Islamic Ideology Dissemination Organization.
The Leader praised Sarhangi for his contributions to the publication of war memories.
The Leader's visit to the book fair marked the first occasion following a three-year absence as a result of the COVID-19 pandemic.
"I'm really pleased that I was able to visit this year's fair, which is a public meeting centering on culture and this is a pleasant topic," the Leader confided to an IRIB correspondent at the end of his visit.
He also praised people's warm welcome to the book fair and said, "Despite deficiencies such as lack of paper and low-quality paper, there has been significant progress in publication in the country."
"Once again, I ask publishers to produce books for our children and young adults in quantity, making us independent of that which is alien and helping to provide our teenagers with domestically produced books that promote our own culture, orientations and aims," he noted.
He asked readers to pay more attention to those books written by indigenous authors recounting memories of the Iran-Iraq war and the war against ISIS.
The leader categorized himself as a regular reader of scientific books and novels and other genres.
Photo: Leader of Islamic Revolution Ayatollah Seyyed Ali Khamenei visits the 34th Tehran International Book Fair at Imam Khomeini Mosalla on May 14, 2023. (Leader.ir)
MMS/YAW