Art students displaying 3D paintings in Tehran gallery  
May 14, 2016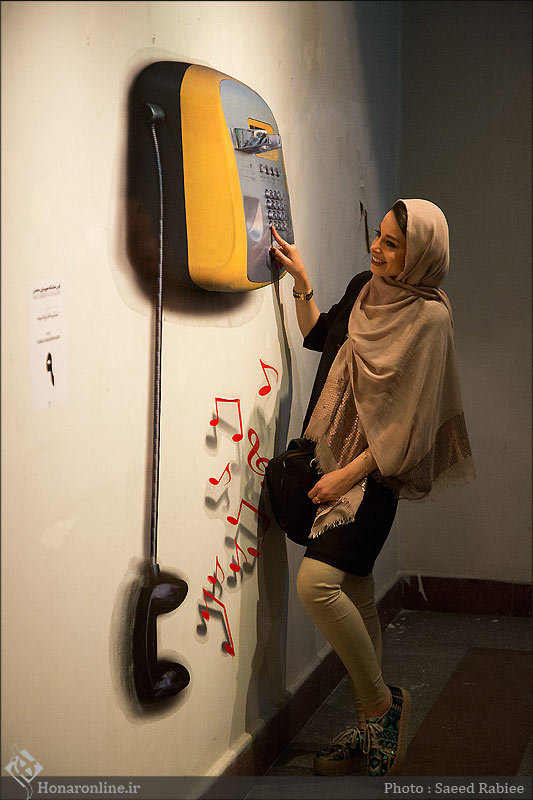 TEHRAN – The Saba Art and Cultural Institute in Tehran is displaying 3D paintings by a group of Iranian students in an exhibition, which opened last Thursday. 
Produced by the students studying visual communication, the images were made first on their computers, then printed on large stickers and later put on display in the Khiale No Gallery of the institute.
A large Tyrannosaurus trying to break into the room, a ladder heading toward the sky, a big shelf full of books, and a pond full of gold fish are all propped up here and there inside the gallery.
"One of the courses the students of visual communication are studying at the university is called 'Environmental Graphic Design', which embraces many design disciplines including graphic, architecture and industrial design," curator Nezameddin Emami said in a press release published on Saturday.
"The current exhibit portrays the artworks the students have created in their university courses," he added.
"We also aim to commercialize this part of graphic design in the future, so we have concentrated on different types of works suitable for commercial spaces across the city," he explained.
Shima Aqai, the student who has produced Tyrannosaurus in her work, says she has tried to make the visitors feel excited by looking at the large dinosaur trying to break into the room.
"I aimed to thrill the visitors and make them experience a different type of excitement and surprise," she said.
"In my other work, a dinosaur is bringing his head out of the frame to take a glance at the world around him with great surprise," she noted.
Another student, Ali Mohammadi Feizabad, is attending the exhibit with his ladders, one coming out of a dark hole on the ground, and the other heading the sky.
Zahra Barekati-Rad, Bita Bahrami, Marisa Habibi, Hossein Sedqi and Babak Mehrparvar are among the students whose works are being shown.
The exhibition will run until May 19 at the institute located near the intersection of Taleqani and Vali-e Asr.
Photo: A woman poses with a 3D painting during an exhibition at the Khiale No Gallery of the Saba Art and Cultural Institute in Tehran on May 12, 2016. (Honaronline/Saeid Rabiei)
RM/YAW
END