Arrogant powers angry about Iranian resistance, Leader says
May 23, 2016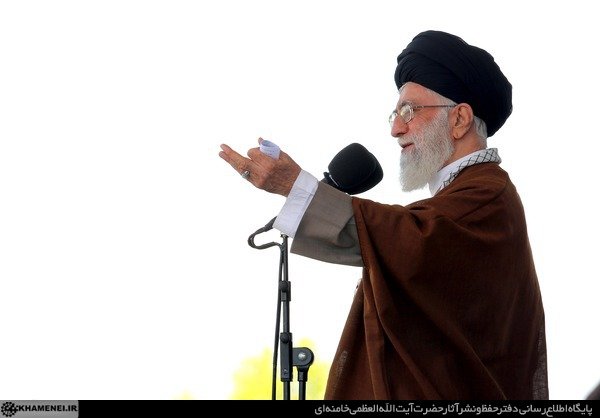 TEHRAN – Leader of the Islamic Revolution Ayatollah Seyyed Ali Khamenei said on Monday that the arrogant powers are "angry" over the Iranian people's resistance in face of difficulties and pressure.
"Resistance", "non-obedience to the enemy" and "protection of Islamic and revolutionary identity" form the main cornerstones of the Islamic system and the Iranian people's power, he said while addressing a ceremony for graduates of Imam Hussein Military Academy in Tehran.
"The U.S. and the other powers are very upset about the issue and have no option, so they made a lot of efforts to dominate the country's decisions making centers, but they could not and will not," he noted.
He said that the arrogant powers are making efforts to bring the Islamic system into knees, but the Iranians will not obey the arrogant powers.
The Leader also said that the universities and the seminary school are duty bound to take action in clarifying the depth of the "revolution's slogans".
He said that issues such as nuclear energy, missile power and human rights are pretexts which are being made due to Iran's refusal to obey the arrogant powers.
"Recently, they have raised a commotion over Iran's missile capability, but they should know that such propaganda will not be effective and they cannot do a damn thing," the Leader added.
"Were the Iranian nation ready to surrender, they (arrogant powers) would have comprised over [Iran's] missile power and nuclear energy and they would have made no mention of human rights," Press TV quoted the Leader as saying.
NA