Steigenberger Hotel Group set to build 10 hotels in Iran
May 30, 2016 - 17:38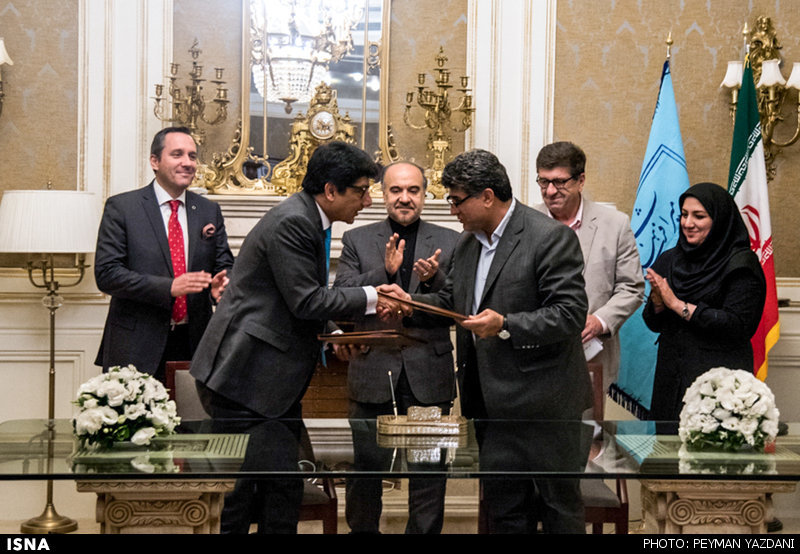 TEHRAN -- German hospitality company, Steigenberger Hotel Group, is set to build 10 hotels in different parts of Iran over the next ten years.
The CEO of Steigenberger Hotels, Puneet Chhatwal, signed an agreement with the deputy director of Iran's Cultural Heritage, Tourism, and Handicrafts Organization (CHTHO), Saeid Shirkavand, during a meeting at Tehran's Espinas Palace Hotel on Sunday.
The German group visited Iran's hotel building holdings and private sector entities on Saturday and decided to build the hotels under the brand name Steigenberger Hotels or InterCity Hotels in the coming years.
CHTHO Director Masoud Soltanifar also attended the meeting. During the event, he pointed to measures Iran has taken to facilitate tourism industry during past two years.
"Facilitation of visa obtaining for some nationalities, expanding number and destination of flights as well as road and rail transport systems are some tourism infrastructures improved by Iran during past years," he explained.
Soltanifar also explained about the plan to increase the number of 4-star and 5-star hotels in the next ten years, saying that "Iran will build 25 four- and five-star hotels annually in the future".
"The hotels will be built by Iran's private sector and investors from other countries. Investors from Turkey and Azerbaijan signed agreements with CHTHO to build hotels in different parts of Iran recently," he explained.
Steigenberger Hotels CEO Chhatwal, for his part, talked about the improvement in Iran's tourism industry in recent years.
He said that experts from Steigenberger Hotels visited different cities of Iran including Shiraz, Isfahan and Tehran four times during past six months and explored tourism market in the country.
Steigenberger Hotels already has 120 hotels in 13 countries and will begin building hotels in Iran until ending of 2016, he added.
Chhatwal said that they are searching for an Iranian partner to build the hotels.

The Steigenberger Hotels has improved investment in the Middle East during recent years. The Steigenberger Hotel Dubai Business Bay has been receiving guests since November 2015.
The first InterCityHotel outside Europe is scheduled to open in July 2016 in Salalah, the second largest metropolitan area in Oman and the InterCityHotel Dubai Culture Village and the Steigenberger Hotel Doha Airport Road in Qatar are scheduled for completion in 2017 and 2018 respectively.
SB/
END