Iran's Contemporary Art Biennial spotlights peace 
July 13, 2016 - 18:55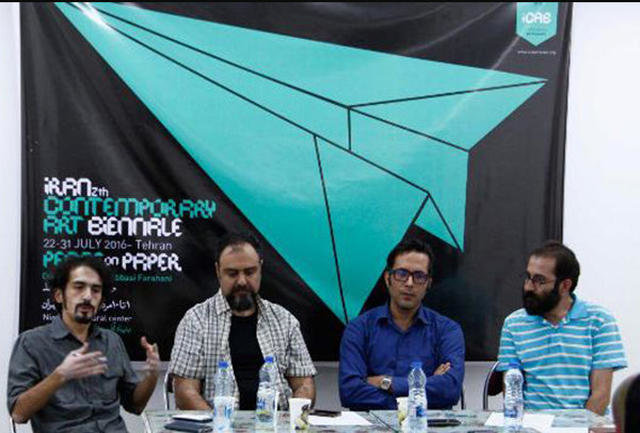 TEHRAN – A selection of works by Iranian and international artists highlighting "peace" will go on display at Iran's Contemporary Art Biennial opening in Tehran's Niavaran Cultural Center on July 22.
"About 200 works in paintings, photos, installations and video art showcasing peace not in contrast with war, will go on show in the second edition of the biennial," art critic Amin Shahed said in a press conference held at Salees Publications on Wednesday.
The works have been created by about 90 Iranian and 35 international artists, Curator Abbas Farahani said, adding that, "The works have been provided by fifteen galleries including three from Germany, Turkey and Dubai, and others from Tehran and other cities."

Farahani explained on choosing the topic "Peace on Paper" for the second biennial, and said, "Paper has a lot of meaning for us. The biennial was also due to be held in Istanbul, and the material of paper was easy to transfer. However the idea of holding the biennial in Istanbul was halted due to the recent suicide bombing at Istanbul's main international airport.
"If we only focused on peace against war, it would turn to be a repetitious topic. In this collection we did not think of peace as a sweet world, but focused on the influence of different factors in the world on one another. Actually, the participation of various artists in a single event conveys the meaning of peace in itself," he added.
Graphic designer Hamed Jaberha, also attending the conference, said that the biennial is a non-governmental artistic event.
He also explained about the poster of the biennial and said, "The poster bears the image of a paper missile, which actually is a kind of joke with peace, and shows how one can make peace with paper."
The exhibit will be on display in Tehran until July 31 and will next move to the Abadan Museum of Contemporary Art opening on September 20.
RM/YAW