Zarif says Caspian Sea legal regime must guarantee interests of littoral states
July 13, 2016 - 22:14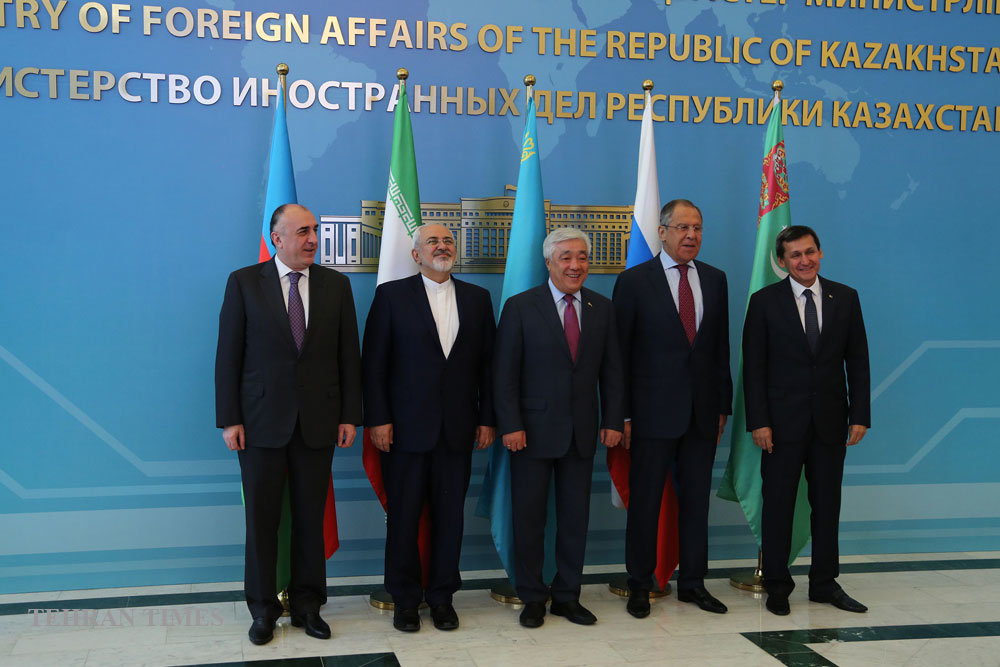 Iranian Foreign Minister Mohammad Javad Zarif says the Caspian Sea's legal regime should guarantee that the interests of the littoral states are met in view of the geopolitical developments. 
Zarif made the remark in a ministerial meeting of the Caspian Sea littoral states in the Kazakh capital of Astana on Wednesday.
The Caspian Sea littoral states - Iran, Azerbaijan, Kazakhstan, Turkmenistan and Russia - are discussing a convention on the sea's legal regime that would be a comprehensive document outlining the duties and rights of the five littoral states as well as the framework of cooperation among these countries.
Zarif and foreign ministers from Azerbaijan, Kazakhstan, Turkmenistan and Russia have come together in Astana to discuss key issues pertaining to the Caspian Sea, including its legal status, and to outline a plan for a summit of the sea's littoral states scheduled to be held in Kazakhstan.
An Iranian working group arrived in Astana earlier this week to participate in the expert-level sessions to devise a convention on the Caspian Sea's legal status.
In the Wednesday ministerial meeting, Iran's top diplomat noted that the legal regime of the Caspian Sea should take into account peace and security.
"Sustainable peace and security in the Caspian Sea [region] is of fundamental significance to regional governments and nations," Zarif said.
He added that the Islamic Republic of Iran, acknowledging the key issue of security, believes that "transparency, peaceful use of the sea and avoiding an arms race" will ensure peace and stability in the region.
The Caspian Sea is the largest enclosed body of water by area and is variously classed as the world's largest lake or a full-fledged sea.
The issue of the legal status of the Caspian Sea was given significance after the collapse of the Soviet Union and the emergence of new independent states bordering the sea.
(Source: Press TV)