Iran shows off S300 lookalike, turbojet engine  
August 21, 2016 - 20:7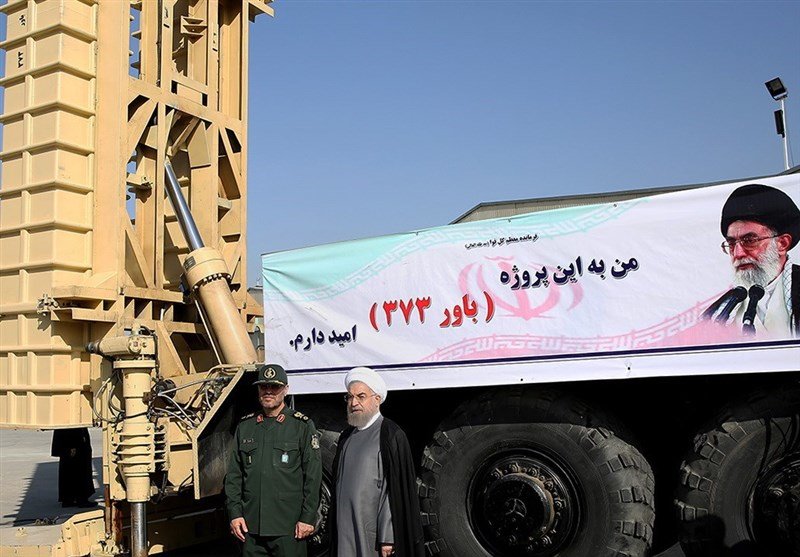 TEHRAN – Iran unveiled on Sunday its first vertical-launching air defense system, Bavar-373 (Belief 373), what it hails as an Iranian match to the Russian surface-to-air S300 predator.
Parts of the system were put on display on Sunday in an exhibition held on the occasion of National Defense Industry Day, which fell on August 21 this year.
President Rouhani and Defense Minister Brigadier General Hossein Dehqan attended the exhibition.
Already in April, the defense minister announced the home-grown air defense system would be unveiled this year with capabilities similar to those of S300, having been tested last August.
While no footage of the system intercepting and hitting targets has been aired, Iran says it can engage flying targets at a high altitude.
The system includes missile-launcher vehicles, a command post, and supplements for missile guidance systems, including an engagement radar.
The long-range radar, called Me'raj (Ascension), uses fuzzy-logic techniques to spot targets.
Bavar-373 benefits from missiles with the same name, which are similar to Sayyad 3 missiles, according to Tasnim.
With high operational capabilities, Sayyad 3 enjoys a solid-fuel engine and a combined guiding system which Iran test-fired in 2014.
Learning from Iraq's war against the country in the 1980s, Iran has developed its homegrown military technology to upgrade its defense capabilities.
The breakthroughs had been impossible to achieve without the large number of companies active in the country's defense sector, according to Dehqan.
First homegrown turbojet engine unveiled
The fair also featured the first homegrown turbojet engine, dubbed Owj (Zenith), which the defense minister said is equipped with a multitude of systems.
"The first national turbojet engine has the capability to operate at altitudes as high as 50,000 feet; it is equipped with multiple systems with high maneuverability capabilities in various operational and environmental conditions, and can be mounted on planes with a maximum takeoff weight of 10 tons," Dehqan explained.
Iran is the eighth country acquiring the know-how, a turning point in the country's aviation industry, according to Dehqan.
"With upwards of 14,000 parts and extremely complicated technology, the Owj turbojet engine mounts to a great technological and designing breakthrough in the country's aviation industry…" the defense chief explained.
Defense minister says, "With upwards of 14,000 parts and extremely complicated technology, the Owj turbojet engine mounts to a great technological and designing breakthrough in the country's aviation industry."
Iran has particularly developed families of short-, medium-, and long-range missiles, notably the ballistic Shahab family.
Iran on verge of mastering submarine-launched supersonic cruise missile technology
Elsewhere in his remarks, the defense minister announced Iran will soon master the know-how to produce submarine-launched supersonic cruise missile (SLCM) technology in the near future.
"We could increase the speed of (our) missiles and God willing, in the near future will achieve (the technology) to produce underwater supersonic cruise missile, as well."
Iran had already tested what it said was the world's fastest underwater missile, designed to elude radar and destroy enemy submarines.
Iran test-fires missiles of different ranges and capabilities year round during regular military drills to keep its armed forces on their toes and has developed home-grown missile classes.
In June, former defense minister Ahmad Vahidi placed Iran among the top five powers in the world with the technology to launch precision-guided missiles.
"We are among the top five countries with precision-guided missile capabilities," Vahidi said.
While some regional and international countries have taken a strict stance on Tehran's military capabilities, Tehran says it is for deterrent purposes only, working toward regional stability and security.
"We have not only preserved our stability and security, but also have assisted our friends, comrades, and regional countries which have been suffering from a difficult situation," said President
Hassan Rouhani, touring the exhibition.
AK/PA