Tehran, Caracas sign MoU on banking co-op
August 29, 2016 - 9:14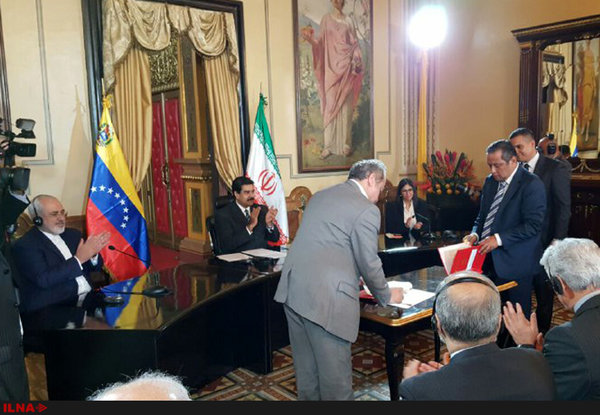 TEHRAN – Iranian and Venezuelan central banks penned an MoU on boosting cooperation on Sunday morning in Caracas, IRNA reported.
The document was signed during a meeting participated by the Venezuelan President Nicolás Maduro and the visiting Iranian Foreign Minister Mohammad Javad Zarif. Some Venezuelan senior officials as well as the visiting Iranian economic delegation reportedly attended the signing ceremony.
The agreement was signed by Hossein Ya'qoubi, the general director of the International Affairs Department of the Central Bank of Iran (CBI), and Jose Salamat Khan, the director of the Central Bank of Venezuela.
The agreement seeks to lubricate payment systems on the way to enhance mutual banking, trade and economic relations.
Zarif started his Latin American tour on August 22 starting with Cuba. He also visited Nicaragua, Ecuador, Chile and Bolivia respectively before Venezuela.
On his Latin American tour, the Iranian foreign minister is being accompanied by 120 businessmen seeking investment and cooperation opportunities to boost several Iranian industries, especially the oil industry.
Iran's Foreign Ministry has announced that the tour of Latin America signifies Tehran's plans to boost non-oil exports.
HJ/MA