By Mehdi Sepahvand
UK wants to engage with Iran to find ways forward: ambassador
October 4, 2016 - 8:12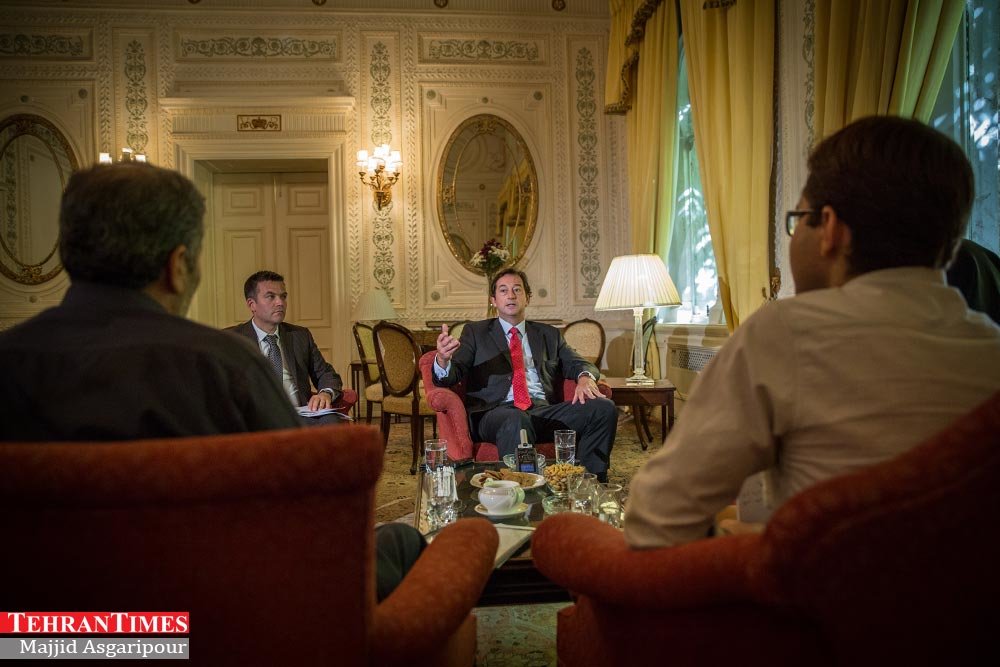 TEHRAN – The British ambassador to Tehran says his country is eager to engage with Iran as a regional power to resolve conflicts.
In an interview with the Tehran Times last week, Nicholas Hopton said he recognizes Iran's right to pursue its foreign policy according to globally recognized norms.

"Every country has a right to pursue its foreign policy and to bring influence to bear in support of its interests. At the same time, every country has to abide by international law as set out by the United Nations, and as in the various international charters, which govern behaviour by countries. Iran of course is like any other country. It has the right to have a foreign policy and to pursue its foreign policy in a peaceful way. The United Kingdom is always ready to work with partners to try and find peaceful solutions to conflicts, and we are very active in this region, in the Middle East, working with our allies and others to try and find solutions to problems and to conflicts," he said.

"Now, Iran has played and plays a role as a regional power in the Middle East. It is an important country. My country wants to engage with Iran wherever possible to discuss issues, to try and find ways forward. Of course we do not agree on everything, and I know we have different views in particular on Syria at the moment."

The British ambassador went on to underline the necessity of diplomatic engagement in bringing efforts to a peaceful solution, saying, "We need a political process in order to resolve this situation. Iran is clearly interested in the future of Syria. We do not agree necessarily with the way that Iran has pursued its interests in Syria, and we will continue to talk to Iran."

On the Joint Comprehensive Plan of Action and its achievements, he noted that the JCPOA has brought a new phase of relationship between Iran and the rest of the world. "There is a responsibility on both the Iranian government and authorities, and the international community to implement the JCPOA," he said.
There is a huge amount of interest among British and European companies in doing business with Iran. And the embassy has worked with literally hundred
Shifting to the economic aspects of the nuclear deal, he underlined that part of the JCPOA is to facilitate the ability of Iran and Iranian companies to trade and do business with the world "in a way that was not possible under the sanctions."

"Now the JCPOA implementation is progressing and nine months since, there are encouraging signs for Iran's economy that are starting to emerge. I know that your government is looking for a healthy rate of economic growth for the current year and beyond. And there is a huge amount of interest among British and European companies in doing business with Iran. And the embassy has worked with literally hundreds of British companies who are looking at how they might do business with Iran. Now one of the issues that is frequently raised with my government and with me personally is that there is a lack of financial services, including banking, to support economic business deals."


"I recognize that this is taking time that the banks in particular, not just British, but European generally, the big banks, are very cautious about engaging with Iran. And I think although this is frustrating to an extent, we should not be surprised, because these banks have been very aware of sanctions…. Now I am confident that this mood of caution is gradually easing, and that we are already seeing some European banks preparing to do financial services work on Iranian deals. This is the trend. This is the direction of travel. I think gradually over time confidence will grow. The British government has been very active in working with Iranian colleagues and very closely with the banks in London, including European banks based in London, and also building confidence in the international financial system so that the banking system would support deals with Iranian companies and the Iranian government. I am confident that the benefits of the JCPOA will be gradually felt and will be visible in Iran."

He went on to underline his efforts as ambassador to facilitate commercial ties between Iranian and British business people. "We have been in contact with hundreds of British business people interested in working with Iranian companies, doing business in Iran. It is early days. I have a small team in the embassy who deal with trade issues and investment issues. They are very busy all the time. And I spend a lot of my time meeting senior British and some Iranian business people to discuss how to find ways of moving forward."
I prefer to look forward at this point rather than backwards
"I am optimistic that this work will lead to increased opportunities and deals that will benefit the Iranian people and British people as well. And we, the British government, through this embassy, and also in London where the new ministry - the Department of International Trade, working with the Foreign Office and the Treasury, will continue, to support business people who want to develop commercial links between the two countries. Over time this will produce benefits for everybody."
The British ambassador then commented on political improvements in Tehran-London relations. "I think as in any close relationship, whether between people or countries, there are always ups and downs. And historically the United Kingdom and Iran have been very close in recent centuries and we have had a lot of contact and partnership over the years."
I think we are two great nations, I think this is a positive basis on which we can build a stronger bilateral cooperation between the two countries
On Iran's distrust of the UK, Mr. Hopton said, "I prefer to look forward at this point rather than backwards. I think that the Iranian people and the British people know each other very well, we appreciate each other's qualities, and I think we are two great nations. This is a positive basis on which we can build stronger bilateral cooperation between the two countries. And that is what this embassy, and the team here working in the embassy, are trying to do. For me, as the ambassador, it is a priority to try and establish greater trust, to build more cooperation. One of the ways we can try and do this is through building up the economic partnership, increasing the commercial links between our countries."

In response to a question regarding British media efforts to indicate political schism in Iran he stated, "The British government does not agree with everything that British media say. There are lots of different opinions. The government and this embassy are focusing on finding ways that we can work in this new era with Iran to find constructive ways of engaging on the issues that matter to both sides."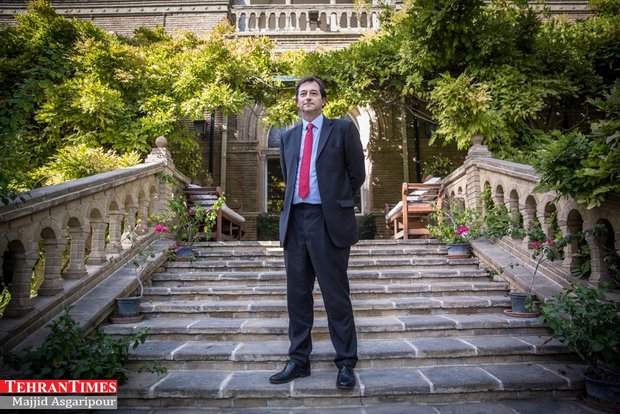 The British government has been very active in working with Iranian colleagues and very closely with the banks in London, including European banks based in London, and also building confidence in the international financial system so that the banking system would support deals with Iranian companies and the Iranian government
He added that the UK government is taking measures to boost bilateral ties with Iran not only at the governmental and business levels, but also at the public level. "The UK government is doing everything possible to ensure that banking facilities are extended to Iran in the JCPOA implementation and that more businesses are facilitated between the two countries. But we are also trying to build people-to-people contacts, so for example we now have a visa service operating out of Tehran which we opened in February. And we have also worked with British Airways who have started direct flights again between London and Tehran, six times a week. This is very positive because this brings the people of Iran and the people of the United Kingdom into more contact and will foster the relationship between the two countries."

On consular efforts to ease travel between Iran and Britain, he said, "There is a limited visa service operating both in Tehran and in London for the citizens of each other at present. This is the first step. It is part of what we were talking about earlier about building confidence, building relations, people-to-people contact, and business-to-business contact. My hope is that over time, the flow of legitimate travel between both countries will increase, and that will require, over time, an increased visa service."

Asked for his opinion about a recent report by the Independent about the UK being the biggest exporter of arms to the Middle East, the ambassador said, "The British government monitors very closely any exports of arms made from the United Kingdom abroad, whether to the Middle East or anywhere else. We have very tough scrutiny and rules governing the end use of any arms. And there is a discussion in the United Kingdom at the moment about this. So let me reassure you of that point, the British Parliament, and public, and media scrutinize these issues very carefully and we have very fixed rules which are respected."
Asked about his expertise and record in the field of security, he said, "I am a diplomat. That is what I do. I have been a career diplomat for over 25 years. That is my background. I think the Middle East is facing an almost unprecedented challenge to its peace and stability. All countries which have strong interests in the Middle East, which includes my own country, have always had a historical, strong tie to the countries of the region, particularly to Iran in many ways. I think there is an important role for the Islamic Republic to play, using its influence in a constructive and positive way as it engages with the world."

SP/