Iran-Germany environmental cooperation to pick up steam
October 7, 2016 - 17:44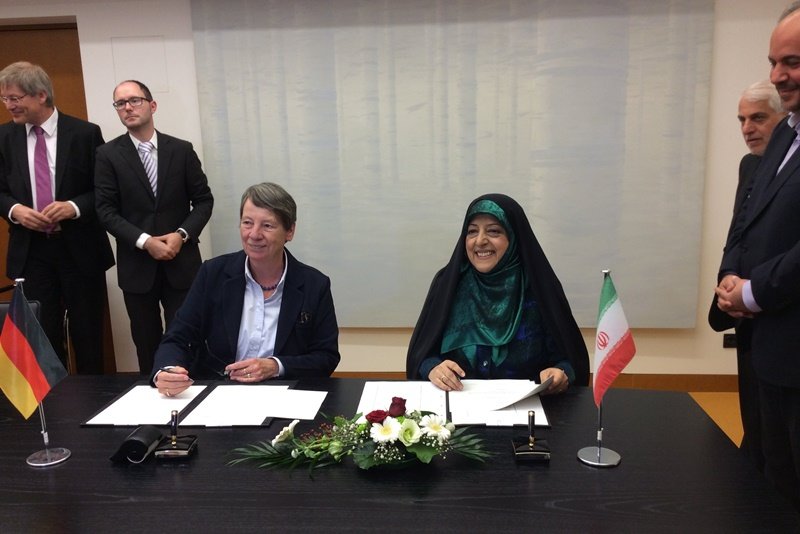 TEHRAN — Iran and Germany gave a fresh impetus to their cooperation on environmental issues ranging from protecting natural resources and biodiversity to reducing greenhouse gas emission.
The chief of Iran's Department of Environment (DoE) Masoumeh Ebtekar who travelled to Germany on Tuesday signed a joint statement within the framework of environmental cooperation with Germany's Federal Minister for the Environment, Nature Conservation, Building and Nuclear Safety Barbara Hendricks on Wednesday.
The statement set the scene for the two countries to work together towards the same ends of natural resources and biodiversity management, national parks and protected areas conservation, fighting climate change, marine environment and coastal areas protection, water and soil pollution management, combatting desertification, using innovative and sustainable technologies, waste and hazardous materials management, raising environmental awareness, reducing greenhouse gas emission, etc., according to the DoE website.
To execute the newly inked statement a joint committee must be set up. The statement is legally binding and must come into force within 15 months.
Surmounting obstacles key to further cooperation
Ebtekar additionally met with Federal Foreign Minister Frank-Walter Steinmeier where the two officials emphasized on the importance of removing obstacle in the path of cooperation.
Collaborations must pave the way for Iran to enjoy clean and eco-friendly technologies which are helpful to overcome environmental challenges such as climate change and dust storms, Ebtekar said.
She went on to say that regional conflicts had add insult to the injury and made Iran's environmental status even worse.
Mentioning banking and financial obstacles Iran is facing Steinmeier pledged to resolve the issue for the German companies' active presence in Iran.
Germany's possible supports for Lake Hamoun restoration
Moreover, Steinmeier explained Germany may consider cooperation on reviving Hamoun Biosphere Reserve, a lake shared between Iran and Afghanistan.
German green companies to consider investment in Iran
Over a meeting with German companies active in environmental fields the two sides discussed ways of expanding ties to transfer technologies to Iran.
German parliament supports the joint statement
In a meeting with Vice President of the Bundestag (German parliament), Claudia Roth voiced her support for the newly signed joint statement stating "if needed, I would garner support from the parliament too."
She also noted that she would back stronger mutual environmental cooperation between Iran and Germany.
Germany keen to help Iran with air pollution
Roth additionally displayed tendency for cooperating on the matter of air pollution in the metropolises and developing public transportation to mitigate the consistent problem.
Trilateral cooperation to restore Lake Hamoun
Over the same meeting Ebtekar also suggested that Iran, Afghanistan and Germany form trilateral cooperation to exchange views and talk over possible measures to revive Hamoun.
"As Germany is in close cooperation with Afghanistan and provide them with expertise and financial supports, we can enter a trilateral cooperation to help Hamoun biosphere reserve," Ebtekar said.
Roth, for her part, welcomed the idea and promised to consider the matter.
MQ/MG