Leader: Compromise with U.S. no panacea for problems 
November 2, 2016 - 21:16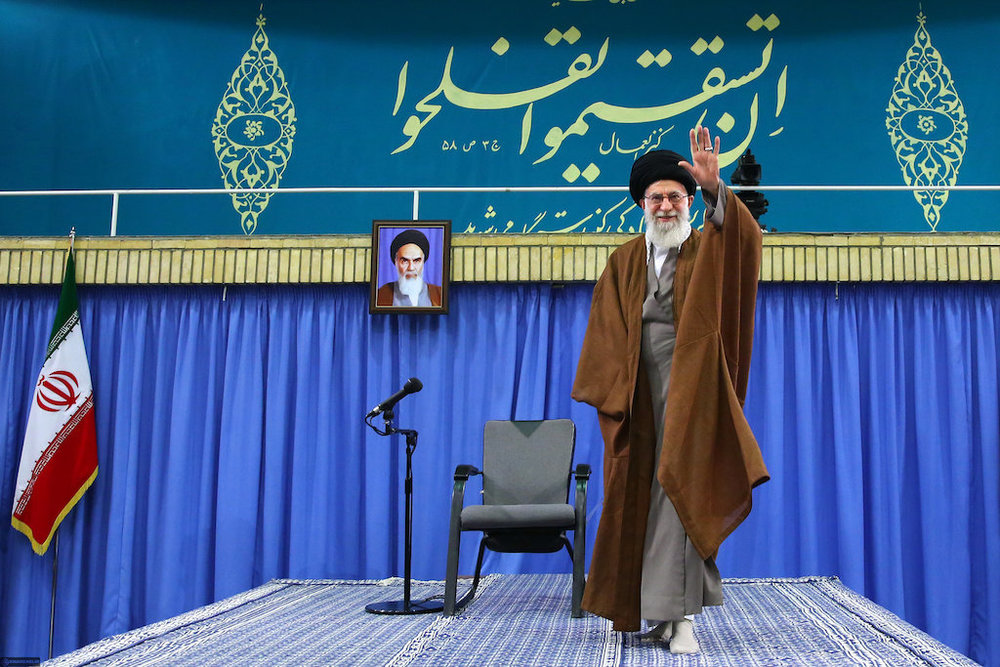 TEHRAN – The Supreme Leader of the Islamic Revolution Ayatollah Seyyed Ali Khamenei said in comments on Wednesday inculcating the idea that negotiation with the U.S. will clear away all problems the country is grappling with is both wrong and "dangerous." 
"This mindset, which is very dangerous, says if we compromise with the U.S., all of the country's problems will be resolved."
The meeting was held on the occasion of Student Day , an annual event held on Aban 13, the 13th day of the eighth Iranian calendar month of Aban. Nearly thirty seven years ago today, hundreds of students stormed the U.S. embassy in Tehran, during which more than 50 diplomats, staff and spies were taken hostage by students.
The day is marked in the Iranian calendar as National Day of Fight against Global Arrogance.
The Leader underscored that pursuing a policy of dialogue with the U.S. is doomed to failure simply because Washington is not trustable.
"Negotiation with the Americans would not resolve our problems because firstly they are liars, untrustworthy, deceitful and backstabbers, and secondly, the U.S. is in crisis itself, and how would a crisis-ridden country be able to solve the problems of another country?"
There is nothing in starting talks with the U.S. but more complexity, the Leader added.
"Not only would negotiation with the U.S. not resolve problems, but it increases them."
For the country to overcome hurdles, reliance on domestic capacities would be decisive, Ayatollah Khamenei noted.
"What would solve the country's problems is the revolutionary spirit and thinking in the sense of reliance on God, trust in domestic capacities, courage to act, insight, acting according to Imam's (Khomeini) recommendations, creativity, hope for the future, and not being scared of the enemy and not surrendering to it.
However, the enemy seeks to rob the Iranian society of the qualities, by trying to represent Imam Khomeini's resistance to the U.S. as biased and inculcating that compromise with the arrogant power will serve as a panacea for all the ills of Iran.
"The two mindsets are being injected by the U.S., its agents, certain penitents, exhausted individuals, and materialists into the society, particularly into the press and universities," the Leader said of the preachers of the two mindsets and possible hotbeds for the erroneous mentalities.
On why the U.S. is not a trustable partner, the Leader said, "Policy and essence of the arrogant U.S. government is on the basis of over-ambitiousness and for years it has applied the policy in different parts of the world, particularly in the Western Asia region and pre-revolution Iran."
Considering this, Iran's uncompromising approach towards the U.S. is logical, the Leader stated.
"That the Iranian nation stood up against the U.S. in Imam's era, and today continues to shout slogans against the U.S. and stands up against it, is on the basis of a strong and reasonable logic."
It was based on this rationality that more than three decades back, a group of students took over the U.S. embassy in Tehran.
"The day (Aban 13) is in fact the day of faithful, revolutionary, brave, valiant, and creative youths who prevented the enemy from making any move by sieging the espionage den.
The takeover of the espionage den on Aban 13, 1358 (1980), was in fact a natural reaction to the plots and hostilities of an ambitious superpower which for years had regarded Iran as its property and plundered its resources and wealth."