Australia welcomes ties with Iran to defeat Daesh: ambassador
November 12, 2016 - 20:25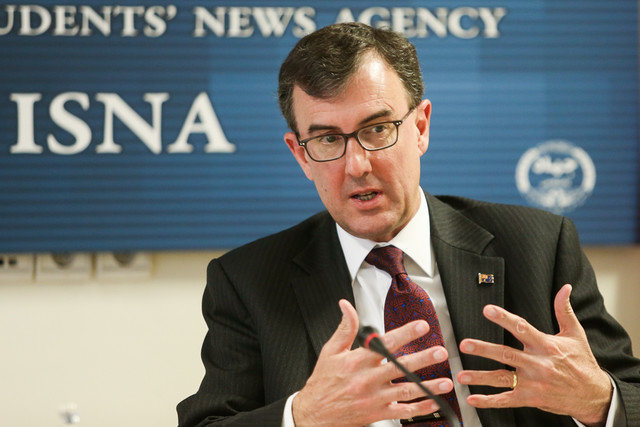 TEHRAN – Ian Biggs, Australia's ambassador to Tehran, has said that his country is willing to cooperate with Iran to discuss ways to defeat Daesh.
In an interview with ISNA published on Saturday, Biggs said security and military forces of Iran and Australia are in direct contact to help restore stability in the Middle East region.
He further noted that the two countries agree that the current situation in the Middle East would not benefit the world.
The Australian diplomat voiced his country's readiness to take required steps to maintain security and stability in the region, adding that both sides can avoid any misunderstanding through close interaction.
On trade ties between Australia and the Islamic Republic, he said three memoranda of understandings (MOUs) have been signed with the aim of expanding cooperation in trade and finance.
The MOUs were signed during a recent visit of Australia's Minister for Trade, Tourism and Investment Steven Ciobo to Iran. He was accompanied by a delegation of Australian companies.
Riggs went on to say that Australia is determined to boost ties in different sectors.
Private companies and corporations are considering new investment opportunities in Iran, he said.
He also underlined his country's willingness to increase direct flights between Tehran and Canberra, saying negotiations are underway to achieve this end.
Since the nuclear-related economic sanctions on Iran were lifted, foreign countries started to show an appetite to expand trade ties with the Islamic Republic.
The economic sanctions were lifted after the nuclear deal, known as the JCPOA, went into effect on January 16.
MH/PA