Epic Arbaeen whets ISIS appetite for blood
November 25, 2016 - 13:9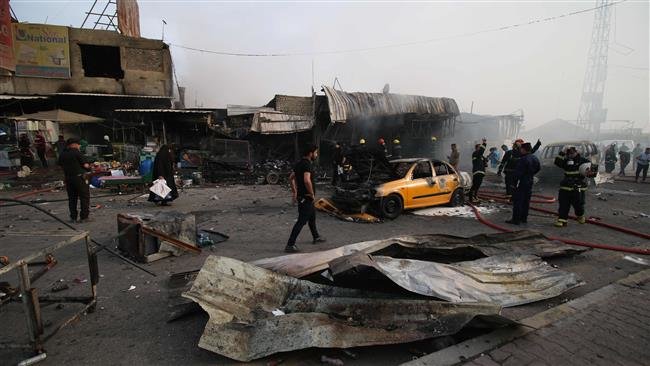 TEHRAN – Incensed by an epic Arbaeen, the self-styled Islamic State in Iraq and Syria (ISIS) claimed responsibility in an online statement for a blast in Iraq which killed about 100 people, including 71 Iranian pilgrims.
The terrorist attack happened on Thursday when a booby-trapped truck went off at a petrol station in the city of Hilla 100 km (62 miles) south of Baghdad.
Five pilgrim buses were set afire by the blast, according to police sources. Reportedly, the gas station has a restaurant on its premises popular with travelers.
Iranian pilgrims accounted for most of the death toll. They were en route back to Iran after trooping into Iraq to observe Arbaeen, the 40th day of mourning for Imam Hussein (AS), a grandson of the Prophet Mohammad, and the third Shiite Imam.
This year, more than 2,500,000 Iranian pilgrims headed to Karbala to perform annual rituals in commemoration of Imam Hussein.
According to Iranian officials, at least 71 Iranian pilgrims have been killed.
Death toll is expected to rise.
Scorched corpses are extremely difficult to identify and DNA testing should be used for identification, said Majid Aqababaee, head of the Arbaeen headquarters.
"Because the corpses are shattered and scorched, for the time being it is difficult to identify them, and DNA testing is needed," he explained.
Also, Iranian Deputy Foreign Minister for Consular Affairs Hassan Qashqavi appeared unaware of the latest death toll, saying, "I don't think the exact number of Iranian martyrs will be announced soon before DNA tests are performed."
The latest reports put the number of injured Iranians at 30, all hospitalized in nearby Iraqi hospitals.
"30 Iranians have been injured in the incident, five of whom hospitalized in Shomali and the rest in Hilla," said Ali Asghar Ahmadi, secretary general of Iran's Red Crescent.
The terrorist blast has drawn strong condemnation from Tehran.
President Rouhani condemned the attack, calling for a fiercer response to the blood shedding on the part of Baghdad.
He further underscored that Iran will press ahead with its multipronged efforts to contain terrorism and extremism.
"The Islamic Republic is still determined to stage all-out fight against terrorists and extremists," Rouhani remarked.
Iran's Foreign Ministry also said it was looking into the attack seriously.
"The brutal and inhumane acts will have no impact on the determination of the Iraqi government and nation as well as on Iran standing beside the oppressed Iraqi nation in relentless counterterrorism efforts," read part of an announcement carried on the official website of the Foreign Ministry.
First Vice President Es'haq Jahangiri called the terrorist blast one done "out of desperation."
"Without doubt, such inhumane measures will make the Islamic Republic of Iran's nation and administration more determined in supporting the Iraqi government and nation in the war against terrorism," Jahangiri said in a message.
Parliament Speaker Ali Larijani also condemned the attack, stressing that Tehran and Baghdad are more resolved than ever to battle terrorism.
"Terrorists and their supporters must know that the Islamic Republic of Iran will continue with its constructive and effective measures to fight terrorism," Larijani said on Friday.
The terrorist blast comes as Iraqi army forces and popular mobilization forces are tightening the noose around ISIS terrorists in Mosul, the group's last bastion in Iraq.
AK/PA