Iranians Observe Arbaeen 
November 21, 2016 - 10:16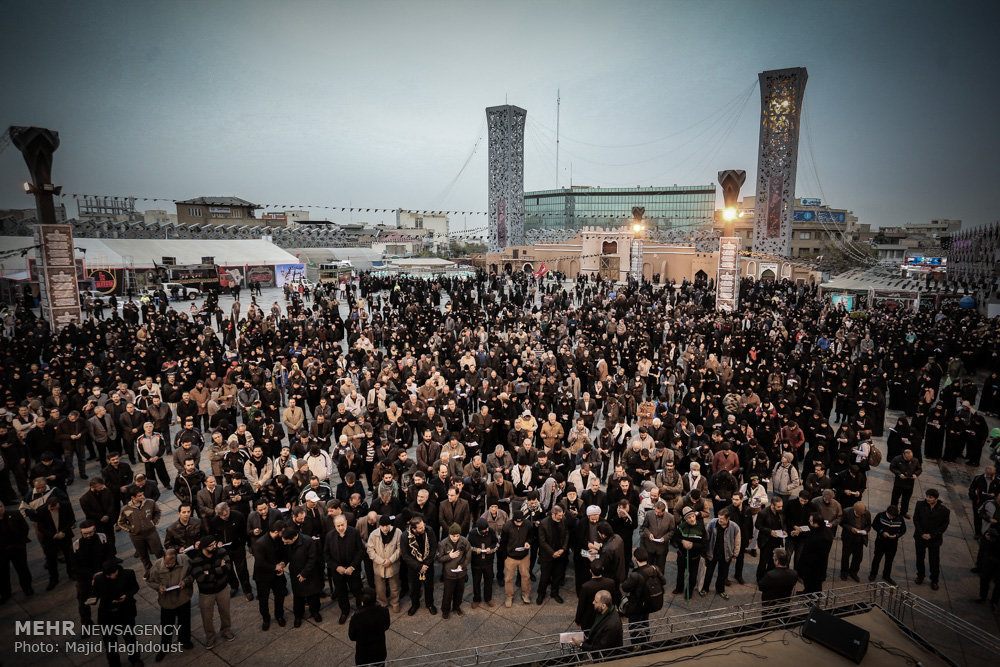 TEHRAN - Millions of Iranians across the country commemorated Arbaeen, a religious observance that occurs 40 days after the Day of Ashura.
Arbaeen marks the martyrdom of Imam Hussein (AS), the grandson of Prophet Muhammad (PBUH), and the third Shia Imam.
People, including women and children, walked long distances to arrive at holy shrines such as the Imam Reza mausoleum in Mashhad and Shah-Abdol-Azim in Tehran.
The Arbaeen rituals revived the memory of Ashura and the feeling of devotion and sympathy.
Also, millions of Muslims, including more than two millions of Iranians, convened in the holy city of Karbala, where Imam Hussein is buried, to mark Arbaeen.

As the biggest religious gathering in the world the ritual in Karbala drew about 20 million pilgrims by Sunday.
Hundreds of thousands of pilgrims from Iraq, Iran, Pakistan, India, Bahrain, Saudi Arabia, Lebanon, Azerbaijan, Turkey and other countries trekked a main road between Najaf - another holy city in Iraq - and Karbala on foot to show their devotion to Imam Hussein.
The flood of pilgrims from Iran to Karbala was so great that Iraq closed Iran's Mehran border checkpoint, saying it was difficult to handle such huge population.
Followers of other religions including Christians join the journey every year to mourn the martyrdom of Imam Hussein.
The Arbaeen has also become a rallying cry for the campaign against violence and Takfiri terrorism. It has also worked to unify Muslims in the face of attempts to create divergence, animosity and misunderstanding among them.
Meanwhile Iranian Minister of Culture and Islamic Guidance Reza Salehi Amiri said foreign media outlets are closing eyes to the epic created by Muslims on the occasion of Arbaeen.
The minister made the remarks while inspecting Chazzabeh border spot in the southwestern province of Khuzestan which borders Iraq. Hundreds of thousands of Iranian pilgrims are using Chazzabe check point to cross into Iraq for Arbaeen rituals.
Vice president joins Arbaeen march in Iraq
Iran's Vice President Es'haq Jahangiri also visited Najaf on Sunday to participate in what has been hailed as Arbaeen Trekking among the Iranians.
Other Iranian officials, including Iran's Haj and Pilgrimage Organization chief Saeed Owhadi, Sports and Youth Minister Masoud Soltanifar, and Deputy Foreign Minister for Arab Affairs Hossein Jaberi Anasari, accompanied Jahangiri.
The vice president met the governor of the holy city of Najaf, hailing efforts by Iraqi officials to organize such a great event.