Iran, Indonesia call for mutual oil, gas, petchem co-op
November 26, 2016 - 8:42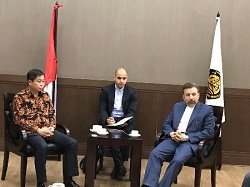 TEHRAN – Iran and Indonesia are willing to expand mutual cooperation in various fields especially oil, gas and petrochemicals, IRNA quoted Iranian Communications and Information Technology Minister Mahmoud Vaezi as saying.
According to the report Vaezi who is visiting the Southeast Asian county to attend the 12th round of Iran-Indonesia Joint Economic Committee meeting, made the remarks after a meeting with Indonesian Energy and Mining Minister Ignasius Jonan on Friday.
In the meeting the Iranian minister mentioned Iran-Indonesia good relations in all areas including oil and gas and said that both countries are determined to boost trade relations and in this regard the joint economic committee meeting could play an important role.
"Considering the two countries' experiences in oil and gas areas and also Indonesia's great market for this industry, Iran and Indonesia's cooperation in this sphere could help boosting the two countries trade turnover," Vaezi said.
The Iranian chairman of the 12th Iran-Indonesia Joint Economic Committee meeting further stressed Iranian companies' capabilities and capacities and said, "Iranian companies are willing to participate in energy and infrastructure projects in Indonesia."
Jonan for his part welcomed the development of cooperation in all fields including oil and gas, electricity and minerals, saying "The ministry is also committed to previous agreements between the two countries and will continue cooperating with the Iranian side."
The Indonesian minister also expressed satisfaction and support for the participation of Iranian companies in various projects including the construction of refineries and other oil and gas infrastructures in his country.
EF/MA