Heavy snowfall in northern Iran causes crop loss, disrupts public utility
November 26, 2016 - 9:43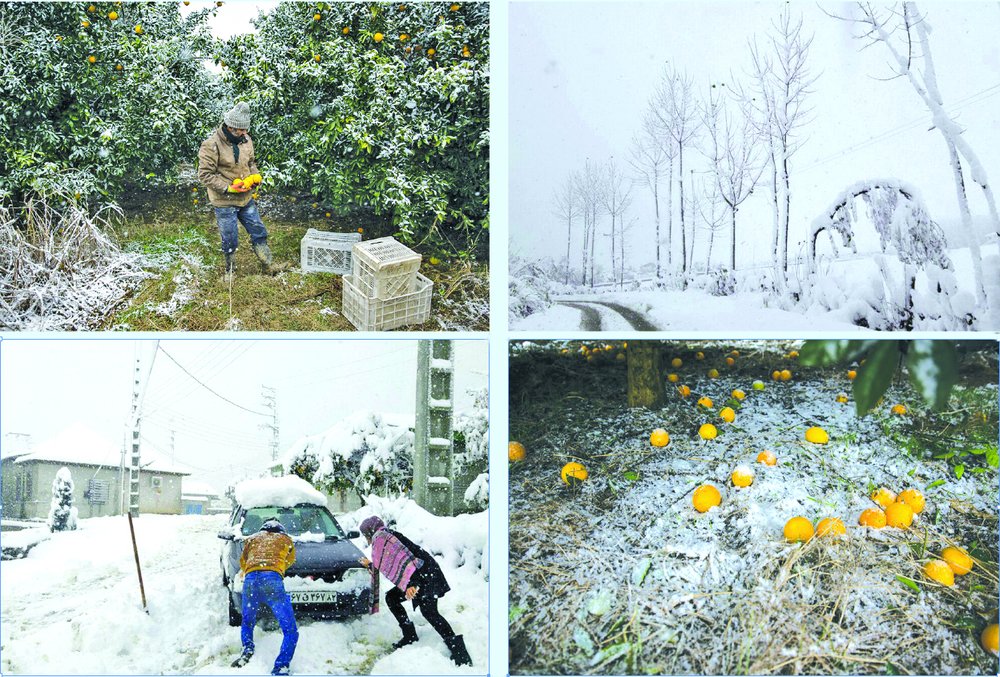 TEHRAN — Heavy snowfall in the northern province of Mazandaran incurred substantial loss on citrus production and resulted in water and gas supply failure and prolonged power cut, ISNA news agency reported.
According to Iran Meteorological Organization it snowed for some one and a half meters in some regions of Amol and Noor and is believed to destroy great citrus corps in the area.
The deputy agriculture minister, Mohammad-Ali Tahmasbi, told Mehr news agency that as Mazandaran produces a large volume of citrus production of the country the crop loss is predicted to be major but not calculated yet.
The Agriculture Ministry has predicted that some 4.7 million tons of citrus crops will be produced in the country, a great deal of which will be harvested in Mazandaran. So, the loss seems to be pretty huge.
Meanwhile, the director of Tehran province famers' union, Mojtaba Shamlou, has pointed out that as orange harvest season is yet to be started and some 50 percent of the tangerines are not collected the amount of loss appears to be dramatic.
Moreover, Masoud Haqiqat, an official with the agro-meteorological office of the Meteorological Organization, has explained that the organization has issued warning last week to inform farmers about the imminent snowfall but unfortunately the farmers didn't take them seriously.
Additionally, the director general of Mazandaran province's power supply department, Qasem Shahabi, said that some 33 villages in the province are suffering from power outage, IRIB reported.
Also, the director general of the province's gas company, Mohammad-Ismail Ebrahimzadeh, has explained that some 32,000 citizens are experiencing gas supply failure.
Saeed Momeni, an official with the National Iranian Gas Company, has claimed that such temperature drop in Mazandaran province is unprecedented and that they were trying to troubleshoot gas failure by Friday evening.
MQ/MG
(Photo by Faezeh Salimi, Amir-Ali Razzaghi/ Tehran Times)
Global warming? The farmers might take it seriously next time. Orange juice from Costa Rica and Brazil is better than the juice from Florida. Would you believe they are shipping LNG all the way from Louisiana to China! I guess the Russians and Chinese can't agree who will pay for the pipeline from Siberia. !!!!!!!!!!!!!!!!!!!!!!! (Practice for the Trump regime. And testing your knowledge of current American culture.) He will rule by Tweet.