Iran Condemns Bahraini Court for Upholding Senior Cleric's Jail Term
December 12, 2016 - 21:47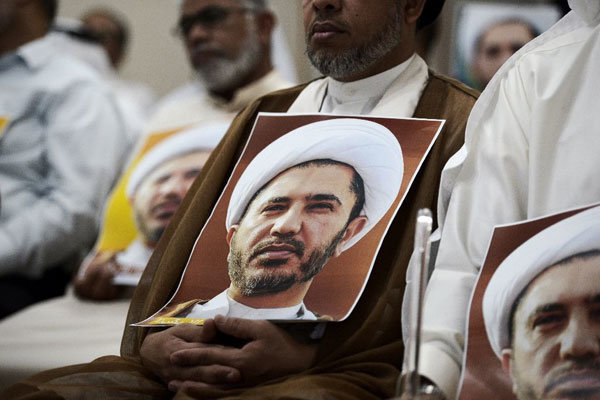 TEHRAN - Iranian Foreign Ministry Spokesman Bahram Qassemi strongly condemned the Manama government for upholding a nine-year prison term for prominent Shiite cleric and opposition leader Sheikh Ali Salman.
"The unjust and tough encounter with the peaceful and moderate Bahraini leaders will not resolve the numerous problems of that country (Bahrain), but will also result in disappointment of the enthusiasts, believers and followers of the peaceful means," Qassemi said.
The Iranian foreign ministry spokesman reiterated that it is only through relying on the people's power that it will be guaranteed that the governments will be able to continue their activities.
Sheikh Salman was initially sentenced to four years in prison. Bahrain's Supreme Court of Appeal increased his jail term to nine years on May 30.
The cleric was arrested in December 2014 on charges of attempting to overthrow the Manama regime and collaborating with foreign powers.
Sheikh Salman has denied the charges, saying he has been seeking reforms in the country through peaceful means.
The Office of the UN High Commissioner for Human Rights (OHCHR) has repeatedly called on the Manama regime to release the 51-year-old cleric.
Thousands of anti-regime protesters have held numerous demonstrations in Bahrain on an almost daily basis ever since a popular uprising began in the kingdom on February 14, 2011.
They are demanding that the Al Khalifa dynasty relinquish power and a just system representing all Bahrainis be established.
On March 14, 2011, troops from Saudi Arabia and the United Arab Emirates were deployed to Bahrain to assist the Manama government in its crackdown.
Scores of people have lost their lives and hundreds of others sustained injuries or got arrested as a result of Al Khalifa regime's crackdown on anti-regime activists.
The al-Khalifa regime is exerting mounting pressure on the opposition.
Bahrain has been in the throes of an uprising since February 2011, when hundreds of thousands of protesters took over a Central roundabout in the capital Manama and demanded political and democratic reform in the authoritarian kingdom.
Bahraini authorities backed by Persian Gulf allies, specially Saudi Arabia, violently broke up the protests, leading to the deaths of hundreds of people, and since then rallies have continued and human rights groups have accused the kingdom of imprisoning and torturing thousands of activists. Hundreds of others have gone missing without any trace or state explanation.
(source: farsnews)