Expert: Uninvited Saudis, Qatar behind Syrian Militant Groups Boycotting Peace Talks
January 5, 2017 - 12:57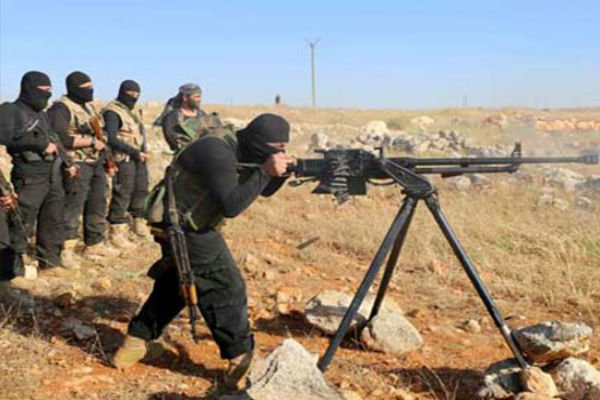 TEHRAN - Middle East expert Danny Makki said those militants who have threatened to boycott the upcoming Syrian political talks in Kazakhstan are backed by Qatar and Saudi Arabia, which have been sidelined from the Turkish-Russian agreement.
Several Syrian opposition groups have signed a statement declaring boycott of the upcoming political settlement talks in Astana, Kazakhstan, citing alleged ceasefire violations, Sputnik reported.
Their statement was widely reported by the Western mainstream media on Tuesday, elaborating that 10 factions said they were suspending discussions regarding the Astana conference or the cease-fire "until it is fully implemented."
The groups cited alleged "major and frequent violations" in the militant-held areas of Wadi Barada and Eastern Ghouta outside the Syrian capital Damascus.
London-based media analyst and researcher, specializing in the Middle East security, Danny Makki said first of all it goes against the UN resolution which was unanimously voted on by all of the countries just on Saturday.
On December 31, the UN Security Council unanimously adopted a Russian-Turkish resolution on a ceasefire regime in Syria, as well as on holding political talks between the Syrian government and opposition groups in Astana, Kazakhstan in January 2017.
A day earlier, on Friday, a nationwide ceasefire between Syrian government troops and several opposition factions came into force.
Russia and Turkey serve as guarantors of the deal which paves the way for negotiations between the warring parties.
Danny Makki also noted that initially, Wadi Barada was not part to the ceasefire agreement, it was not considered as an area to the ceasefire.
Hence for those militant groups to say that it was a violation of a ceasefire by the government is incorrect. Most of the militant groups who have issued the statement are on the side of the militants, he added.
"Conspicuously, there are some problems from backers such as Qatar or Saudi Arabia who have been sidelined from the Turkish-Russian agreement and perhaps are seeking some sort of revenge by pressuring these groups to pull out of this agreement," he explained.
In addition to this, he said, the statement is aimed to derail the process which was started by one of the opposition significant backers, Turkey.
"It remains to be seen what Turkey makes out of all of this because this have been seen as a diplomatic victory for the Turks in some sense," he told Sputnik.
The initial agreement was signed by about 8 major groups and these major groups represent around over 20 or 30 different small groups, the expert said. All in all, there are hundreds of different militant groups in Syria, at least two thirds of them were signed up to this agreement, totaling to 60,000 fighters.
The groups which have recently stated that they would not continue the process constitute around 20 or 30,000 soldiers on the ground, he explained.
Most of these groups are funded either by Saudi Arabia or have Gulf sponsorship in terms of finance and support. The Turkish-backed groups have not pulled out of the agreement, all of the Turkish groups stayed in.
"You have so many warring groups and so many different backers that it is almost impossible to get all of them to agree on one thing at one particular moment of time," Danny Makki noted.
Most of the groups around Damascus, who have rejected the ceasefire, are the groups which consider themselves on the threat by recent Syrian army offensive around Wadi Barada. But Wadi Barada was never part of the ceasefire plan, he reiterated. It is Gulf States' attempt to undermine Russian and Turkish agreement, he noted.
He further elaborated that these groups are relatively influential. They are mainly located in Damascus and around however they already have a huge presence in the north. Even though, they haven't posed a very significant threat to the overall ceasefire plan because the plan has been supported by Turkey's reputation.
"You've got to remember that many of the groups and movements who have signed up to this agreement are currently fighting with the Turks around the city of Al-Bab against ISIL," he said.
"Turks have essentially put their necks out on the line and attempted to say to the (Persian) Gulf countries: you've been supporting the opposition for huge amount of time but because we have a border with Syria, because we have better and closer credibility among the Syrian militants, we can force them into a ceasefire," he suggested.
"You can clearly see a fact that Saudi Arabia is not even involved in this peace agreement which would create a problem to most of the militant groups being funded by Saudi Arabia," he said.
The expert also noted that the current developments in Syria only prove how significant Russian presence in the region has been and how significantly it has changed the internal dynamics of the Syrian crisis.
"Who would have thought in 2015 when the government was facing almost breaking point that the Russians would be celebrating at least a moral victory in an international struggle against the US in Aleppo after signing a peace agreement for the militants with Turkey, one of the main countries and backers of the opposition," he concluded.
(source: Farsnews)