Wrestling diplomacy at work again; U.S. Team arrives in Iran for Freestyle World Cup
February 14, 2017 - 9:15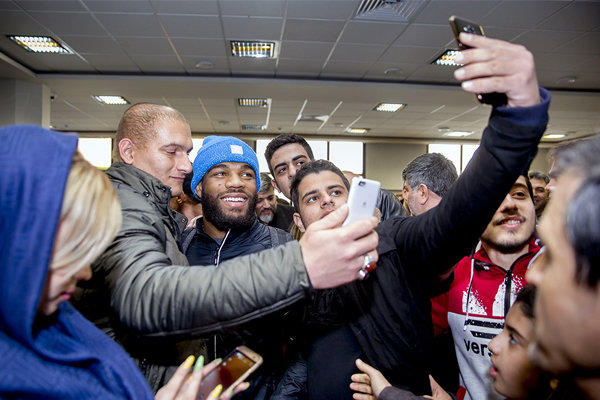 After weeks of diplomatic squabbling between governments, wrestlers from the United States arrived Sunday in Iran. The delegation, led by 2012 Olympic champion Jordan BURROUGHS (USA) was cheered on by local wrestling fans and greeted by a swarm of media.
The American team arrives after the governments of Iran and United States spent weeks going back-and-forth on the details of lawful travel between the two countries. The issues was resolved last week after a court in the United States overturned an executive order, once again allowing Iranians to enter the Unites States. The Iranian government reciprocated, a move which allowed the American wrestlers entry for the World Cup.
"The Iranian people love wrestling," said Burroughs. "They're huge fans of mine and I was bummed when we could attend. Obviously, my views and our country's views are different," said Burroughs before traveling to Iran.
The dual-based World Cup begins Thursday, February 16th and concludes on Friday the 17th with medal matches. A livestream of the event will be available on www.unitedworldwrestling.org along with photos, wraps and a complete results table, unitedworldwrestling.org reported.
In group A, USA team meets Russia, Azerbaijan and Georgia while Iran competes against Mongolia, Turkey and India in group B.
Top teams of two groups advance to final match and second place teams face each other for third place.