Iran, Mexico ready to bolster health co-op
February 18, 2017 - 17:58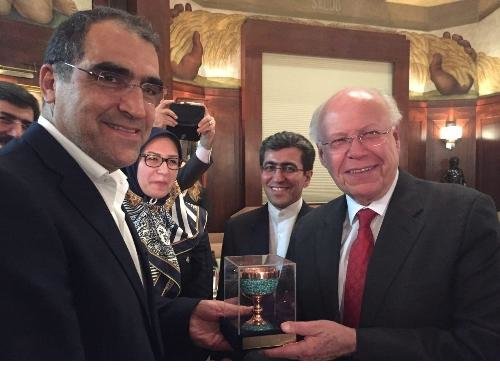 TEHRAN — Iran and Mexico have expressed readiness to expand ties in the health sector, IRNA news agency reported on Friday.
During the two-day visit of Iran's Health Minister Hassan Qazizadeh-Hashemi to Mexico, he met with the Mexican Secretary of Health Jose Narro Robles.
"Mexico has made some measurable improvement in pharmaceuticals and medical equipment production and I hope we achieve progress in our bilateral relations with them after Mexican chancellors and Secretary of Health trip to Iran in the near future," Qazizadeh-Hashemi said.
The Iranian minister further noted that the two countries also aim at expanding medical cooperation within the framework of a memorandum of understanding signed between National Autonomous University of Mexico and Tehran University of Medical science.
Narro Robles, for his part, mentioned World Health Organization positive reports on Iran's progress in health sector and endorsed Iran's health-related programs and plans.
He also expressed hope that he would travel to Iran in the near future and use Iran's experience in the health sector.
----------- Expanding scientific, economic ties
The rector of National Autonomous University of Mexico Graue Wiechers in a meeting with Qazizadeh-Hashemi explained that "Iran and Mexico both have lots of cultural values in common, so it's important for us to expand scientific and economic ties with Iran."
"Iran is an appropriate option for boosting cooperation and exchanging knowledge and technology with in different fields," Wiechers underscored.
Mentioning the newly signed memorandum of understanding Wiechers pointed out that such agreements would set the scene for direct interaction between two countries scientists.
"As we both are ophthalmologist we can start our scientific cooperation in this field and develop it into other fields," he added.
MQ/MG