Terrorism will never prevail over tolerance
April 12, 2017 - 8:44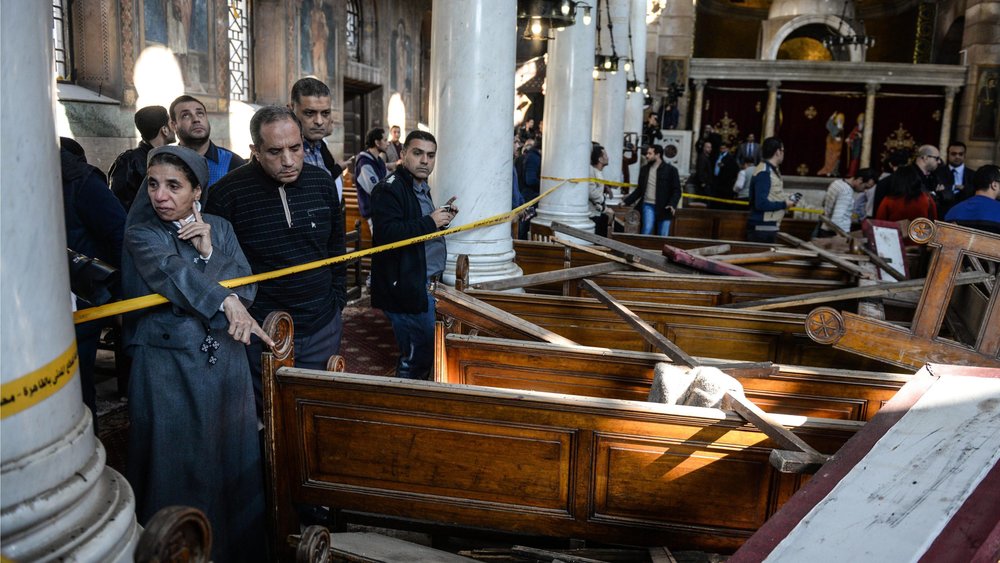 The suicide-bomb attacks on two Coptic churches in Egypt that killed at least 47 people must be viewed as assaults on civilized and tolerant society.
That they occurred on one of the Christian calendar's holiest days, Palm Sunday, and targeted the leader of the Copts, Pope Tawadros II, is an affront to all religions. They closely follow similar outrages in Sweden, where a lorry driver killed four people, and in Russia, where a suicide bomber killed 14 passengers on the St Petersburg Metro. We join the many voices from around this region and the world, from all faiths, in condemning these heinous acts that killed not just worshippers but many of the police and security personnel assigned to protect them.

Egyptian president Abdel Fattah El Sisi has reacted swiftly to the attacks, declaring a three-month state of emergency. He also ordered the deployment of soldiers to guard "vital and important infrastructure". These increased measures are, in part, designed to guarantee that this month's planned visit to Egypt by the Catholic pope, Francis, can go ahead. In the UAE, where religious tolerance is a key plank of social harmony, we must support those who extend the hand of friendship across faiths.

But ISIL, which has admitted the Egyptian attacks, wants to drive a wedge between believers. This was reflected in a chilling statement released after the bombings: "Crusaders and their apostate allies should know the bill between us and them is very big and they will pay it with rivers of blood from their children, God willing. Wait for us, for we will wait for you." The world must ensure that these extremists cannot succeed in creating further tension between the Copts and the Egyptian Muslim majority.

We must call these people – the lone wolves and the members of terror cells who may live among us – what they are: cowards. And we must live our lives in the way we choose in defiance of their warped ideology. Even as they select popular "soft" targets such as places of worship – and, in other attacks, airports, shopping areas, beaches, cafes and restaurants – they cannot deter us from going about our lives.
We stand with Egypt, Sweden, Russia and everywhere that hatred has reared its head. We will best support the values that we hold dear by condemning extremists and redoubling our efforts to counter their poisonous messages.

(Source: The National)