Top U.S. senator hails anti-Iran terrorist group
April 16, 2017 - 21:12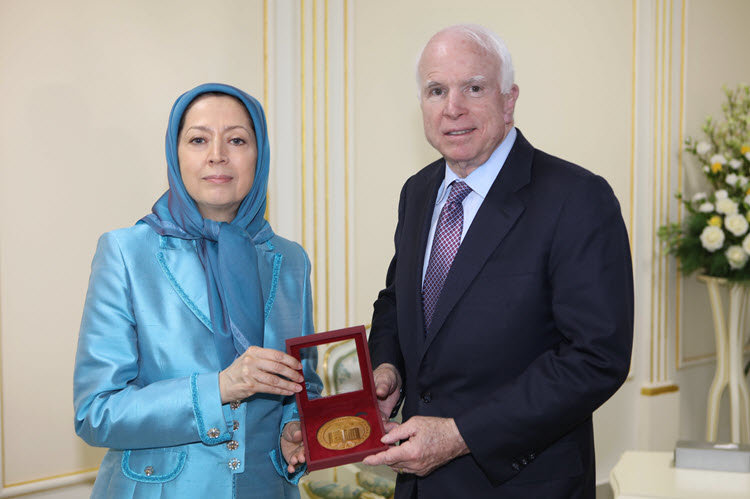 TEHRAN – U.S. Senator John McCain has lauded the Mujahedin-e Khalq Organization (MKO or MEK), describing it as "an example to everyone in the world that is struggling for freedom."
During a meeting with the head of the MKO, Maryam Rajavi, which was held in Tirana, Albania, Senator McCain said he believed that "the Iranian regime, Bashar Al-Assad and Daesh (ISIS)" were all interrelated.
According to Rajavi's website, the two sides met on Friday, April 14, to discuss the latest developments in Iran, "the Iranian regime's nefarious meddling in the region", and the future prospects.
The MKO, which is currently acting as a proxy against Tehran, has carried out numerous terrorist attacks against Iranian civilians and government officials over the past several decades.
"There is no doubt that people in this room have suffered not only themselves, but in the loss of their loved ones," McCain told MKO members in a gathering.
The MKO fled Iran in 1986 for Iraq and was given a camp by former Iraqi President Saddam Hussein. It fought on the side of Saddam in the Iraqi imposed war on Iran during which the former Iraqi dictator used chemical weapons against Iranian civilians on a massive scale. The notorious group is also responsible for killing more than 17,000 Iranians in different acts of terrorism, including bombings in public places and targeted killings.
It was listed as a terrorist organization by the U.S. and European Union in 1997 and 2002 respectively, but as more efforts got directed to vilify Iran, the MKO got delisted by the EU on January 26, 2009 and by the U.S. on September 28, 2012.
For her part, Rajavi praised McCain for his "unsparing efforts" in support of the MKO members in Ashraf and their relocation out of Iraq after they were expelled from Iraq.
"Today, there is a consensus in the Middle East about the clerical regime's destructive role and that the religious fascism ruling Iran is the primary source of war, terrorism and crisis in the region," she said.
"Regime change is not only indispensable to ending the egregious violations of human rights in Iran but also to establishing peace and tranquility in the region. As long as the clerical regime is in power, it will not abandon the export of terrorism and fundamentalism."
After Washington formally removed the MKO from its list of terror organizations, the group became able to have its assets under the U.S. jurisdiction unfrozen and do business with the American entities. A number of U.S. officials received hundreds of thousands of dollars in fees for speaking on MKO's behalf ever since.
There is a long list of U.S. politicians from both major parties who have received money for expressing their support for the MKO, including Newt Gingrich, the former speaker of the House; Bill Richardson, a former New Mexico governor and UN ambassador under Bill Clinton; former Vermont governor Howard Dean; two former CIA directors, James Woolsey and Porter Goss; former Homeland Security Secretary Tom Ridge; former New York City Mayor Rudolph Giuliani; former Attorney General Michael Mukasey; former FBI Director Louis Freeh, former UN Ambassador John Bolton; and former Pennsylvania Governor Ed Rendell.
However, American officials are not the only ones receiving money from the MKO in exchange for political support. On July 9, 2016, former Saudi intelligence chief and former Saudi ambassador to Britain and the United States Prince Turki al-Faisal Al Saud spoke for 30 minutes before a crowd in Paris, France, for the annual conference of the MKO.
In April 2012, Pulitzer Prize-winning journalist Seymour Hersh reported that the U.S. Joint Special Operations Command trained operatives from the MKO at a secret site in Nevada from 2005 to 2009.
According to Hersh, MKO members were trained in intercepting communications, cryptography, weaponry and small unit tactics at the Nevada site.
"We, the Americans, have continued to provide intelligence and other kinds of material support for the MEK," he said.
MH/PA