Iran denounces Washington for supporting terrorist groups
April 17, 2017 - 20:20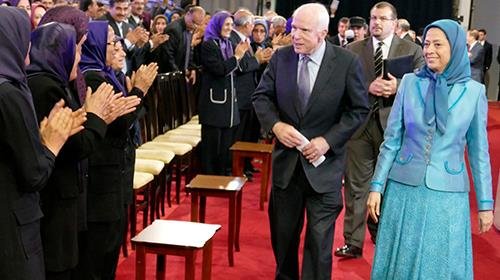 TEHRAN – Tehran on Monday denounced the United States for supporting terrorist groups, such as the anti-Iran Mujahedin-e Khalq Organization (MKO or MEK), which carry out acts of terror against the Islamic Republic and other regional countries.
In a news conference, Foreign Ministry spokesman Bahram Qassemi condemned the U.S. for threatening the security of the region, saying Washington must pay for its wrongdoings.
Qassemi's remarks came days after the head of the MKO, Maryam Rajavi, met with John McCain, a senior U.S. senator who was the Republican nominee for the 2008 U.S. presidential election.
"You have stood up, fought, and sacrificed for freedom, for the right to live free, for the right to determine your future," said McCain, referring to Rajavi.
Qassemi further said the meeting came of no surprise to him, since the United States has supported various terrorist groups in recent decades.
Once an important political actor inside Iran, the MKO fought the rule of Shah, Mohammad Reza Pahlavi, before the Islamic Revolution. However, after the 1979 revolution, it resorted to acts of terror and assassinations, killing thousands of innocent Iranians.
According to Pulitzer Prize-winning journalist Seymour Hersh, MKO members were trained in the United States from 2005 to 2009, under former President George W. Bush. Their training included intercepting communications, cryptography, weaponry and small unit tactics.
Following the election of Donald Trump as president, anti-Iran warmongers became much more vocal in U.S. politics, which in turn has empowered the MKO-like groups and individuals who are now calling for "regime change" in Iran.
Also, a week ago, Reza Pahlavi, the son of the last Shah of Iran, called for replacing the Islamic Republic with a "parliamentary monarchy".
"My focus right now is on liberating Iran," he said.
Days after Pahlavi's anti-Iran remarks, came John Bolton's. Bolton, the former U.S. ambassador to the United Nations who is infamous for being one of the most hawkish politicians in America, called Iran "a terrorist state" in a New York Post article published on Sunday.
"The nuclear threat from rogue states like Iran is a terrorist rather than a military threat, aimed to intimidate, or ultimately kill and maim, innocent civilian populations around the world," he wrote.
Among many other U.S. politicians, Bolton has also spoken in favor of the MKO at its conference in Brussels. He, too, repeatedly calls for regime change in Iran.
MH/PA