Guardian Council shortlists presidential hopefuls
April 20, 2017 - 23:32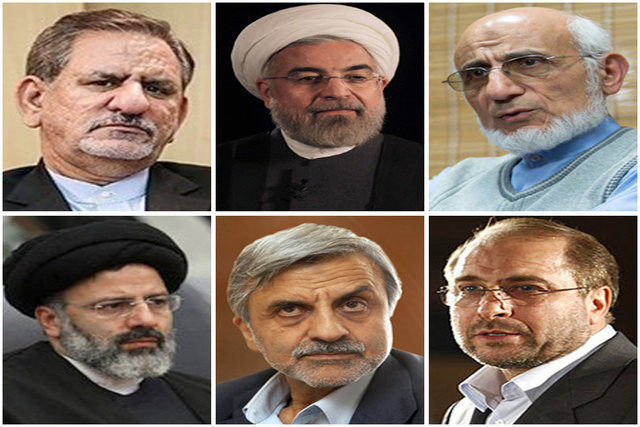 TEHRAN - The overseeing Guardian Council announced on Thursday a list of presidential hopefuls, qualifying six out of a pool of 1636 applicants.
The candidates who have been approved by the Guardian Council are incumbent president Hassan Rouhani; Vice President Es'haq Jahangiri; Islamic Coalition Party member and former culture minister Mostafa Aqa-Mirsalim; former Physical Education Organization chief Mostafa Hashemi-Taba; Tehran mayor Mohammad-Baqer Ghalibaf; and custodian of the Imam Reza shrine Seyyed Ebrahim Raeisi.
The candidates were selected among many applicants.
Former President Mahmoud Ahmadinejad and his close aide Hamid Baqayee have both been disqualified from running the race.
The final hopefuls, the Interior Ministry said in a statement, were legally allowed to start campaigning from the minute the shortlist was published until 24 hours before the election day, May 19.
The registration procedure for the presidential election ended on April 15 and the Guardian Council started vetting presidential election hopefuls the following day.
Observers predict a high turnout in the election.
The main competition will most probably be between Rouhani and Raisi.
In the presidential race Rouhani and Jahangiri will be on one side and Raisi and Ghalibaf on the other.
It is highly predicted that Jahangiri will withdraw candidacy in favor of Rouhani. However, it is still not clear whether Raisi will remain in the race or Ghalibaf, depending on the final decision by the Popular Front of the Islamic Revolution Forces, called JAMNA in Persian acronym.
In the second primary voting by JAMNA, Raisi got the highest vote for candidacy. It is expected to sit soon to endorse its final candidate.
Rouhani, a centrist candidate, is mainly backed by moderates and pro-reform groups while Raisi is supported mostly by principlist groups.
The main contention between candidates will be the country's economic situation.
NA/PA