Tehran, Hanoi able to reach $2b trade: ICCIMA head
April 21, 2017 - 20:12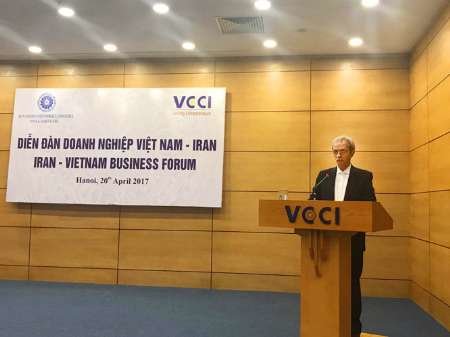 TEHRAN- Iran and Vietnam can increase the value of their bilateral trade up to $2 billion, Head of Iran Chamber of Commerce, Industries, Mines and Agriculture (ICCIMA) Gholam-Hossein Shafeie said addressing an Iran-Vietnam trade forum held in Hanoi on Thursday.
According to IRNA, Shafeie, who traveled to the Vietnamese capital leading a trade delegation and by the invitation of Vietnam Chamber of Commerce and Industry (VCCI) to attend the one-day event, announced Iranian private sector's readiness and tendency towards expanding ties with their Asian counterparts, in particular the Vietnamese.
Referring to an official report, the Iranian official lamented that Iran's share from the Vietnamese 148-billion-dollar market presently stands at $367 million, while Vietnam's stake of the Iranian 78-billion-dollar market is $18 million.
The current figures should be improved regarding the two sides' relations and background, he added.
Inviting the VCCI head to make a trip to Tehran, Shafeie said that ICCIMA will put establishing Iran-Vietnam Joint Chamber of Commerce on its agenda.
Also Vietnamese Deputy Minister of Industry and Trade Cao Quoc Hung, in his meeting with Shafeie called Iran the major economic power in the Middle East and expressed hope that the two countries will hit the set bilateral trade value in a short time.
There are so many opportunities for us to collaborate on and we can change into biggest market in the region via improving our economic ties.
During Iranian President Hassan Rouhani's meeting with his Vietnamese counterpart Tran Dai Quang, in early October 2016, both sides decided to expand the worth of mutual trade between the two countries up to $2 billion from its current $390 million.
However, the two countries are faced with some barriers on the way to expand their mutual ties, in particular lack of direct banking ties which has made Tehran and Hanoi use banks of other countries for their bilateral financial transactions.
HJ/MA