Leader: Candidates should not look abroad
April 25, 2017 - 20:43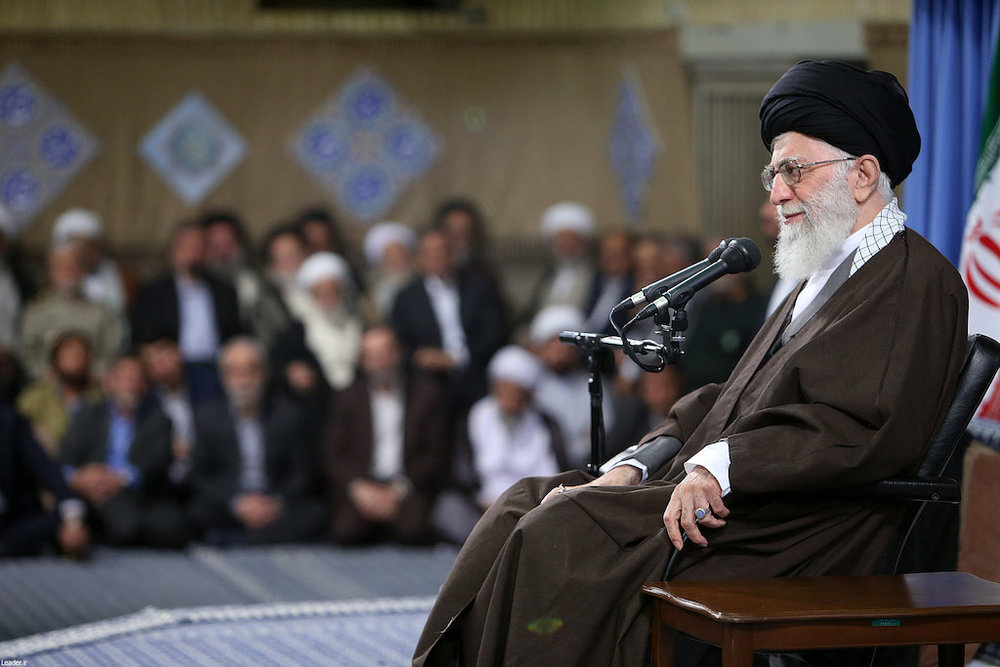 TEHRAN - Leader of the Islamic Revolution Ayatollah Seyyed Ali Khamenei said on Tuesday that the presidential candidates should set sights on the people and not pin hopes on outsiders.
"It is essential for the candidates to pledge the people not to set sights on outside borders for the country's progress and solving problems," the Leader said during a meeting with a group of officials and ambassadors from Islamic countries on the occasion of the Eid al-Mab'ath, which marks anniversary of appointment of Muhammad (pbuh) to the prophethood.
Iran will hold election and presidential elections on May 19.
The Leader also said that people are duty bound to participate in elections in the Islamic republic system. He added participation in the elections is an example of people's "status, power and right" to choose head of government.
"Faith, unity, resistance and participation in the arena should be maintained and the system's domestic structure should be strengthened through using capabilities and capacities in a way that the enemy becomes disappointed with its plots and abandon animosity," he explained.
Elsewhere, the Leader said that the U.S. and Zionist regime of Israel seek to counter Islam through forming terrorist groups and creating division among Muslims especially in Iraq, Syria, Bahrain and Yemen.
He noted that officials in Islamic countries are duty bound to understand the main reason behind the arrogant powers' animosity with Islam.
"Islamic governments should know that the U.S. seeks to undermine unity in the Islamic world and prevent Muslims from reaching a common understanding about the Islamic communities' interests…," Ayatollah Khamenei pointed out.
The world of Islam should demonstrate "unity" and "resistance" in order to make advancement, he said.
The Leader also said, "The U.S. has done anything to harm Iran. All should know that anyone who aggresses the Iranian people will, undoubtedly, harm himself, because the Iranians respond will be hard."
NA/PA