By Afshin Majlesi
Tehran crafts expo: A venue for dialogue
August 28, 2017 - 19:2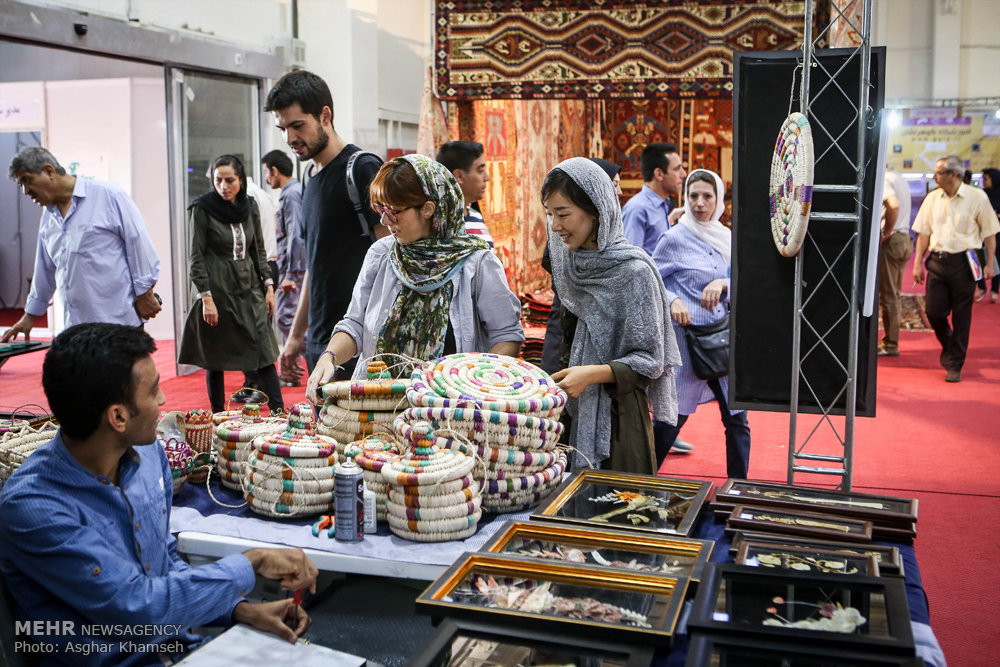 TEHRAN - During a visit to the 28th National Crafts Exhibition on Sunday, I gradually realized that many visitors, craftspeople, exhibitors, entrepreneurs and even officials are in ongoing dialogues, a phenomenon that was seemingly a prevailing feature of the event.
The expo opened its doors to the public on August 23 at the Tehran Permanent International Fairground under the auspices of the Cultural Heritage, Tourism, and Handicraft Organization.
It was about 11 am that I bumped into Deputy Minister of Industry, Mining and Trade Ali Yazdani holding talks with various craftspeople on their issues and problems while hearing suggestions to gain a deeper insight into such demanding professions.
A few meters away, CHTHO Deputy Director Bahman Namvar-Motlaq accompanied by Pouya Mahmoudian who presides over exports department of the organization, were conversing with exhibitors. So do ordinary people and handicraft buffs.
Such face-to-face talks summon up powers of inspiration and enable artisans to come up with a solution to make more and more novel designs. It also paves the way for delicately getting acquainted with tastes of people and actual customers so that handicrafts could find their way back into the real life.
With hundreds of nationwide artisans promoting skills at over 400 booths, the weeklong sales exhibition is expected to deepen cultural bonds and affinities that do exist between nomadic, rustic and modern urban lives.
On the fifth day of the exhibition, the Tehran Times conducted interviews with visitors, exhibitors and officials, excerpts of which come as follows:
ISIPO supports promotion of handicrafts
Yazdani who also doubles as the head of Iran Small Industries and Industrial Parks Organization (ISIPO), pledged the organization's support for promoting handicrafts and lending a hand to artisans in terms of holding sales exhibitions, free-of-charge training sessions and hosting crafts workshops within industrial districts and townships.
"Any kind of support is necessary for development and promotion of handicrafts that is deeply rooted in history and culture of the country. Meanwhile it is a considerable source of generating [sustainable] jobs nationwide," he said.
The ISIPO has signed a memorandum of understanding with the CHTHO, based on which great incentives are provided for artisans who set up their workshops within industrial estates and townships. In the field of education and training, we provide free-of-charge sessions with the help of experts in all branches of handicrafts industry, he explained.
"Within the framework of the memorandum, we also facilitate artisans' participation in domestic and foreign exhibitions," Yazdani said, noting that up to half of the costs for domestic exhibits are covered."
Younger generations are coming
"Younger generations of artisans are entering this field, and their number is on the rise. And, thankfully, we are witnessing more practical handicrafts with outdated products being enlivened with more senses of creativity and novelty," Namvar-Motlaq pointed out.
He also appreciated visitors and artisans for entering into dialogues, saying: "Holding dialogues is one of the most important features of the event during which people share their tastes with artisans."
Various editions of the National Crafts Exhibition show that artworks are getting better and better in terms of qualitative craftsmanship and aesthetic qualities.
Handcrafted metalware vessels meticulously inlaid with enamel are on show on the opening day of the 28th National Crafts Exhibition in Tehran, August 23, 2017.
Exports on the rise
The value of handicrafts exports, excluding traditional jewelry and suitcase trade, added up to $237m in the past Iranian calendar year (ended March 20, 2017), witnessing a 36.3-percent hike in comparison with the year earlier, Mahmoudian told the Tehran Times.
The official declined to reveal the value of exports for the first fourth months of the current year, saying the [promising] figures will be announced soon in a press conference. She expected that Iran's annual exports of handicrafts to reach $1b by the end of the Sixth Five-Year National Development Plan (March 2021).
Traditional ceramics, pottery, handwoven cloths as well as precious and semi-precious gemstones were amongst the most handicrafts exported, she said, adding Iraq, Afghanistan and Germany are the main importers of Iranian handicrafts with the U.S. and the UK recently resumed their imports.
Inspired by modern techniques and traditions
Yasser Yami, a member of the American Association of Woodturners, told the Tehran Times that he has successfully launched a production line for woodenware, using state-of-the-art tools and machinery over a span of three years.
Yami has showcased his works at over ten international crafts exhibits in Berlin, Munich, Madrid, Florence, China and the Canary Islands, where he envisioned combining modern techniques with genuine traditions of the motherland.
He also attached great importance to appropriate packing and branding for Iranian handicrafts as fundamental necessities to global marketing.
Smaller fellow of Chinese counterparts
Zhang Wei, a visitor from China, compared the exhibit to that of counterpart events in his homeland, saying it's smaller when it comes to the area and the number of booths but still "very good and welcoming". He was in search of some exquisite woodwork crafts across the fairground.
Chance for tasting regional dishes
Visitors have the chance to taste variety of traditional and regional snacks and dishes which are usually embellished with fragrant herbs while principally accentuate on freshness, deliciousness, and colorfulness.
The 28th National Crafts Exhibition has put on show woodwork, illuminated manuscript, miniature, textile printing, enamel, leatherwork, handwoven products, calligraphy, traditional musical instruments, metalwork, and marquetry, amongst a lavish patchwork of other skills.
Over the past couple of years, dozens of Iranian handicrafts have been honored with the UNESCO Seal of Excellence. In 2010, a total of 65 crafts on various themes including enamel, tile, metalwork, leatherwork, wood carving received the privilege.
AFM/MG